2019 American Pianists Awards winner Emmet Cohen to serve as University of Indianapolis Artist-in-Residence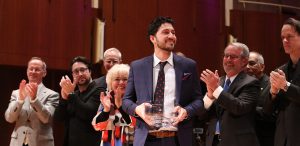 The University of Indianapolis continues a rich history of the performing arts in a unique partnership with the Indianapolis-based American Pianists Association.
Emmet Cohen, the 2019 American Pianists Awards winner and recipient of the Cole Porter Fellowship in Jazz, will be named Artist-in-Residence at the University of Indianapolis for the next two years. Cohen succeeds Drew Petersen, the 2017 American Pianists Awards winner and recipient of the Christel DeHaan Classical Fellowship.
The Cole Porter Fellowship in Jazz provides Cohen with a prize valued at $100,000 to assist him as he builds his musical career. It includes $50,000 in cash, a recording contract with Mack Avenue Records, two years of professional development assistance and performance opportunities worldwide.
Cohen will visit the University of Indianapolis campus for one week for each of the next four semesters beginning in Fall 2019. Cohen will provide lessons to students, present master classes and host performances during his time as the Artist-in-Residence.
"The Artist-in-Residence program is a wonderful opportunity to connect our students with the expertise and talent of the American Pianists Association to help them navigate from the classroom to the concert hall. I am excited to continue this partnership that creates a space for musical exploration for the entire community," said University of Indianapolis President Robert L. Manuel.
"I would also like to thank Drew Petersen for his dedication to this successful collaboration," President Manuel continued. "Drew's residency at UIndy set a high standard for student mentorship and musical performance."

Richard Ratliff, professor of music and director for artistic initiatives, said the partnership creates stimulating experiences for student pianists and broader audiences.
"Drew Petersen's residency during the past four semesters remarkably surpassed all expectations and has had a much broader impact. His collaborations with students and faculty created an excitement throughout the department and campus community that we will long remember. I know that Emmet Cohen will continue that tradition. We all look forward to the expertise of a gifted young professional and his presence in our department," Ratliff said.
About Emmet Cohen
Emmet Cohen is the winner of the 2019 American Pianists Awards and recipient of the Cole Porter Fellowship in Jazz. Leader of the "Emmet Cohen Trio," Cohen presents jazz performance lectures through the YoungArts Foundation and Lincoln Center's "Jazz for Young People" program. He has appeared in the Monterey, Newport, North Sea, Bern, and Edinburgh jazz festivals, among others, and at many famous music venues, including Rose Hall and the Kennedy Center. Cohen has also played in legendary international nightspots, such as Birdland, the Blue Note, Dizzy's Club Coca-Cola, Jazzhaus Montmartre, and Ronnie Scott's. He is Hammond B-3 organist-in-residence at Harlem's Smoke jazz club. A Suzuki piano student at age three, Cohen holds jazz piano degrees from the Manhattan School of Music (M.M.) and the University of Miami (B.M.). He was previously a finalist in the American Pianists Awards in 2011 and 2015, and he was also a finalist in the Thelonious Monk International Piano Competition in 2011.

About the American Pianists Association
The American Pianists Association has been supporting aspiring young artists for over 38 years and has been based in Indianapolis since 1982. It has a professional staff of seven, headed by Dr. Joel M. Harrison. The American Pianists Awards, held for both classical and jazz artists, offer significant opportunities for American pianists, ages 18-30, to advance their careers. Each winner receives a two-year fellowship, valued at over $100,000 including cash awards, fees, publicity and recording opportunities. All American Pianists Awards events are produced as public recitals and feature the finalists in a variety of settings. The organization greatly values the individual artistic sensibilities of each pianist, nurtures such individuality and does not impose any repertoire requirements during the competitions other than those necessary for the different genres. American Pianists Association strives to be the bridge between professional training and a full-fledged professional career. www.americanpianists.org.

About the University of Indianapolis
The University of Indianapolis, founded in 1902, is a private, liberal arts university located just a few minutes from downtown Indianapolis. UIndy is ranked among the top Midwest Universities by the U.S. News and World Report, with a diverse enrollment of more than 4,300 undergraduates, 1,400 graduate students and 400 continuing education students. The University offers a wide variety of study areas, including 100 undergraduate degrees, more than 40 master's degree programs and five doctoral programs. More occupational therapists, physical therapists and clinical psychologists graduate from UIndy each year than any other state institution. With strong programs also in engineering, business and education, UIndy impacts its community by living its motto, "Education for Service." www.uindy.edu.