Fairbanks Symposium at the University of Indianapolis to examine Unigov at 50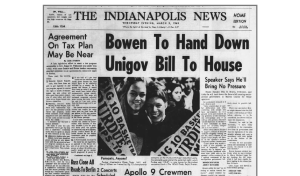 INDIANAPOLIS—The Sixth Annual Fairbanks Symposium on Civic Leadership, scheduled for May 15, 2019, at the University of Indianapolis, features national and local thought leaders who will discuss the lasting impact of urban consolidation in central Indiana. "Unigov at 50: The Blueprint of the Urban Midwest?" studies the legacy of merging local governments in Indianapolis and the implications for modern cities that have yet to undergo the process.
Enacted in 1970, Unigov—short for unified government—was a plan to simplify city services, grow the city's tax base and put a more substantial Indianapolis on the national map. Nearly 50 years later, experts will gather at the University of Indianapolis to discuss these questions and more.
"This year's Fairbanks Symposium brings together the architects of Unigov with local and national experts for an insightful perspective on urban consolidation," said organizer Edward "Ted" Frantz, professor of history and director of the Institute for Civic Leadership & Mayoral Archives. "This is a unique opportunity to discuss one of the most significant developments in the history of Indianapolis and the lessons it holds for other cities."
Discussion sessions will offer a citizen's guide to Unigov consolidation and explore its economic and racial impacts. Current efforts by Better Together to seek unified city-county government in St. Louis also will be examined.
Bruce Katz, one of the nation's leading experts on localism and metropolitan government, will participate in an INconversation with Dave Leipholtz, the Director of Community Studies at Better Together St. Louis. Katz is the author of several books focusing on the rise of cities and city networks as the world's leading problem solvers. The unique discussion format will help the audience explore creative trends in metropolitan areas across the Midwest and the United States, including Better Together's initiative to merge St. Louis County with the city via referendum in 2020.
The Richard M. Fairbanks Symposium on Civic Leadership is hosted by the University of Indianapolis' Institute for Civic Leadership & Mayoral Archives, in partnership with Indiana Humanities. It is made possible through the generous support of the Richard M. Fairbanks Foundation. The event, which is scheduled from 9 a.m. to 1:30 p.m. in the Schwitzer Student Center at the University of Indianapolis, is free of charge and registration is required by May 6. A buffet lunch will be included.
"We are pleased to be a partner in this important examination of a critical time in history that created modern Indianapolis," said Keira Amstutz, president and CEO of Indiana Humanities. "It is always wise for communities to come together and examine the past as they plan the future."
Symposium program
Guest panelists include Bart Peterson, CEO of Christel House International and former Indianapolis mayor, and Scott Chin, partner at Faegre, Baker Daniels and former corporate counsel of the City of Indianapolis, who will discuss "A Citizen's Guide to Consolidation in Indianapolis."
"Sticky Legacies of Unigov Then and Now: Race and Economics" will examine the racial and economic impact of Unigov, moderated by Amber Denney '95, director of strategic communication, IUPUI.
Panelists include:
Doran Moreland, executive director, statewide diversity & community engagement, Ivy Tech Community College John Mutz, former Lt. Governor of Indiana, former president of Lilly Endowment, philanthropist Joyce Rogers, vice president for development and external relations for diversity, equity, and multicultural affairs, Indiana University Foundation Angela Smith Jones, deputy mayor of economic development, City of Indianapolis
"The Enduring Charm of Consolidation: St. Louis, and its 21st Century Dreams" features a conversation with Bruce Katz, author and co-founder of New Localism Advisers, and Dave Leipholtz, director of community studies at Better Together St. Louis. The panelists will discuss how their efforts can inspire and be inspired by what has happened — and what has not happened — in Indianapolis and Marion County. A question and answer session will follow.