Reflector staff receive 25 ICPA state-level journalism awards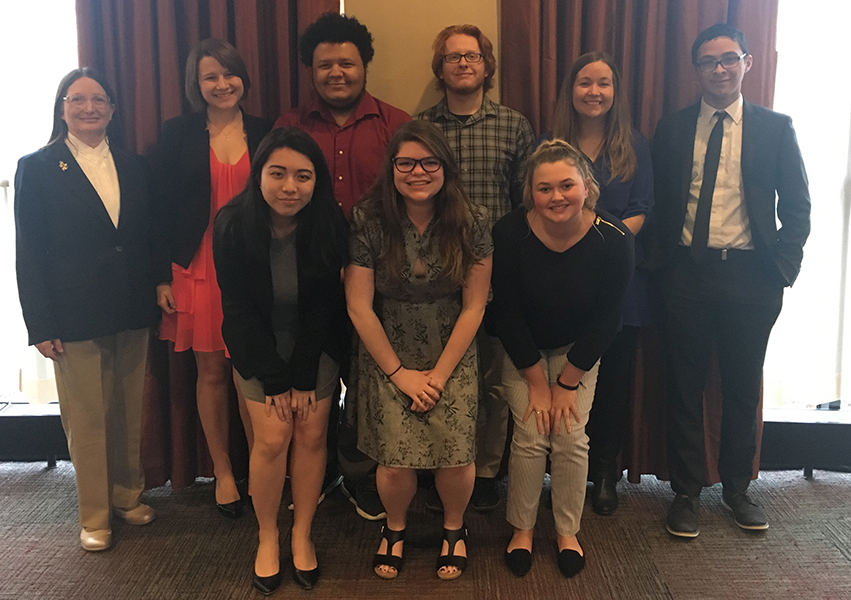 Congratulations to the students of The Reflector (both print and online), who won a total of 25 Indiana Collegiate Press Association state-level journalism awards in March 2019.  Judges were out-of-state media professionals, and the awards were announced at the ICPA annual convention in Indianapolis.
Eight students and Prof. Jeanne Criswell attended the ICPA convention. Prof. Criswell is a member of the ICPA board of directors and served as program chair for the state convention.
The following students won awards:
Abby Land, Best Non-Deadline News Story, First Place, "Future Greyhound Victim of Florida School Shooting"
Abby Land, Best Feature Page, Third Place, Faith Spread
Maia Gibson, Best Entertainment Story, Second Place, "Center for Aging and Community Program Inspires Other Facilities"
Shayla Cabalan, Best Entertainment Column, First Place, "Marvel Comics Legend Stan Lee Championed a Diverse and Compelling Cast of Superheroes"
Shayla Cabalan, Best Opinion Column, First Place, "LGBT Media: Vital to Youth"
Ethan Gerling, Best Editorial Cartoon, Third Place, "Police Need New Glasses"
Zoë Berg, Best Sports Feature Story, Second Place, "Alumnus Signs to Play Professional Baseball"
Erik Cliburn, Best Sports Feature Story, Third Place, "From Backyard Hoops to Pro Player: Coach Gouard's Lifetime of Basketball"
Zoë Berg, Best Sports Page, Third Place, "Fall Senior Athlete Highlights"
Cassandra Reverman, Best Sports Photo, First Place, "Women's Lacrosse"
Ki Tally, Best Feature Photo, Third Place, "Student Engagement Series"
Zoë Berg, Best News Photo, Third Place, "Bench in Flooded Park"
Jayden Kennett and Kyle McGinnis, Best Photo Essay/Picture Story, Third Place, "UIndy Drag Show"
Zoë Berg, Best Informational Graphic, Second Place, "Roche Academy Pathway to a Career"
Zoë Berg, Best Front Page, Third Place, Welcome Week Front Page
Staff of The Reflector, Best Overall Design, Third Place
Staff of The Reflector, Best Single Issue, First Place, November 20 Issue
Staff of The Reflector, Newspaper of the Year, Third Place
Noah Crenshaw, Best Animation/Interactive Graphic, First Place, "The Cost of Tuition at UIndy"
Noah Crenshaw, Best Use of Twitter, Third Place
Staff of The Reflector, Best Overall Website, Third Place
Tate Jones, Best Full Color Display Ad, First Place, College Crossing Fall Ad
Tate Jones, Best Full Color Display Ad, Second Place, College Crossing Summer Ad
Johana Rosendo, Best Electronic House Ad, Third Place, Reflector Electronic House Ad
Staff of The Reflector, Advertising Publication of the Year, Third Place
Photo: [from left, back row in the photo:]  Prof. Jeanne Criswell, adviser; Zoë Berg, editor-in-chief; Tate Jones, business manager; Ethan Gerling, art director; Abby Land, entertainment editor; Noah Crenshaw, online editor; [from left, front row] Shayla Cabalan, opinion editor; Maia Gibson, previous managing editor; Jayden Kennett, current managing editor.)