Evan Smiley named 2019 University of Indianapolis Law Scholar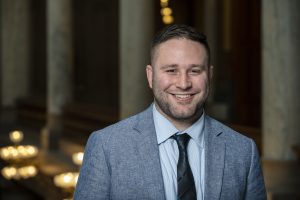 Evan Smiley '19, (political science major, international relations and pre-law minor), has been named the 2019 University of Indianapolis Law Scholar.
Smiley will receive a minimum half-tuition scholarship throughout his studies at IU McKinney; and a guaranteed experiential learning opportunity of either an externship in the Indianapolis Bar or a research assistantship at IU McKinney.
"I was both excited and humbled upon learning that I would be receiving the UIndy Law Scholarship," said Smiley, "It means a lot to me to be chosen to receive this scholarship because I both admire and respect those who have received this scholarship in the past."
The Scholar program, started in 2018, is the result of a partnership between the University of Indianapolis and the Indiana University Robert H. McKinney School of Law. Candidates are selected by the University of Indianapolis Law Scholar Committee.
At the University of Indianapolis, Smiley was a member of the Pre-Law Student Association and active in the UIndy GOP chapter. He also was a member of the wrestling team for three years. Aside from his standout academic accomplishments, Smiley also maintained several impressive internships during his time on campus including an opportunity with the Luke Messer US Senate Campaign, the Indiana Republican Party and the Indiana Statehouse with the House Republican Caucus.
"All these internships supplemented what I had learned in the classroom at UIndy, while giving me hands-on experience in the political realm," said Smiley.
The University helped provide Smiley with the opportunity to sharpen his skills and explore what career path might interest him. "UIndy has developed many skills that will be immensely important to me in my educational career," said Smiley. "When I came to UIndy I had a pretty strong base in reading and writing, and UIndy has furthered polished these skills, preparing me for the next step in my academic career."
One of Smiley's mentors during his time on campus was David Root, assistant professor of political science and pre-law advisor. "He has often given me great advice throughout my UIndy career and believed in me even when I did not believe in myself," said Smiley.
"Having had Evan as a student since his freshman year," said Root, "he has done terrific work in the classroom and the Pre-Law Student Association and I am very excited for him to earn this award.  He certainly deserves it and I look forward to seeing him progress through law school."
Smiley is confident he is on the path to something fulfilling and exciting. "I believe that IU McKinney will expose me to many different possibilities and guide me in the right direction for my long-term career path," Smiley said.
The University of Indianapolis Law Scholar is expected to serve as a visible and active liaison between IU McKinney and the University of Indianapolis, demonstrating strong leadership during campus visits, recruiting efforts, and other joint measures undertaken by the two schools. The program is  designed to assist students financially and experientially when they matriculate to IU McKinney and to encourage students to consider IU McKinney for their legal studies.
To learn more about the University of Indianapolis Pre-Law Program, click here.