Professor's publication says social cliques exist in the golden years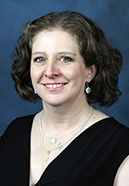 If you thought you left cliques behind in high school, think again. A recent publication by UIndy faculty Dr. Heidi Ewen, Department of Interprofessional Health and Aging, reports that cliques exist in senior housing communities, too.
The difference, as reported in "Social lives and cliques within senior housing communities," published in the Journal Housing & Society, is that while cliques do exist in senior housing, the cliques are not a source of dissatisfaction and stigma.
Ewen is an Associate Professor and Director of the M.S. in Healthcare Management at the University of Indianapolis. Her research focuses on senior housing, relocation, aging in place, and aging. Visit
here
for more information.