Mission Matters #57 – Intellectual Traditions of Clinical Psychology at UIndy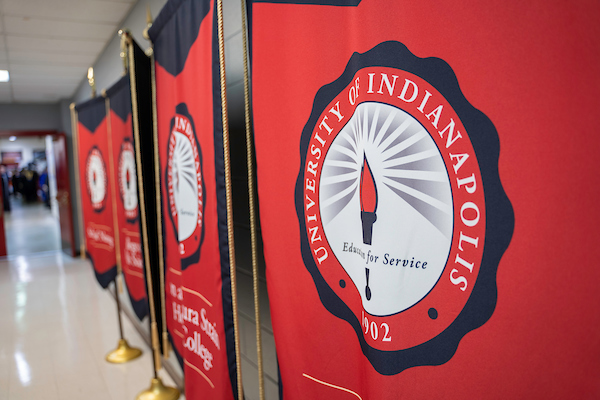 This year we are exploring intellectual traditions associated with UIndy's schools and colleges. In this case, the focus is on the field of clinical psychology. Dr. Samantha Gray's fascinating essay follows a historical summary provided with the assistance of Emeritus Professor John McIlvried.
Brief History of Programs of Study in Psychology: 1905-2019

by Michael G. Cartwright, Vice President for University Mission and Associate Professor of Philosophy & Religion, with support from Prof. John McIlvried
Academic interest in psychology can be found in some of the earliest catalogues, but primarily as one course within a curriculum that was set according to the older literary or rhetorical paradigm associated with teaching the classical languages. Notably. Prof. John A. Cummins, who taught from 1905 to 1941, had a strong interest in the study of psychology, which he pursued in the context of his primary focus on philosophy. An endowed chair of psychology was established by P. R. Hightower (Class of 1914) but was discontinued due to inadequate funding. Even so, courses in psychology were offered frequently. During this period, most ICC faculty – psychology included — had not completed terminal degrees in their field of study.
All of this began to change in the 1970s. As Fred Hill explains, in the fall of 1969, "three departments, Philosophy and Psychology, Bible and Religion, and Sociology were realigned to form the Department of Philosophy and Religion and Behavioral Sciences Department" (Hill, 319). In addition to coursework, ICC administrators became more aware of the need to provide counseling services to students. A decade later, Dr. Kate Ratliff founded a counseling center, which became a context for thinking about the student experience in a more holistic way.
Doctorally prepared faculty like Prof. Victoria Bedford, who researched the behavior of identical twins, began to be hired. Dr. John McIlvried, who taught at ICU in the 1980s before leaving to go to Central State Hospital to direct clinical psych programs, returned in 1993 to start the first master's degree in psychology, which was offered at the University of Indianapolis – Athens Campus.  In 1994 a separate psychology department was created as part of the College of Arts & Sciences with Dr. McIlvried as the Chair, which began offering the master's degree in clinical psychology on the Indianapolis Campus.  
More faculty were hired as graduate and undergraduate program enrollment grew.  In 1995 the Psychology Department created a proposal to offer the first doctoral program at the University of Indianapolis (a PsyD in Clinical Psychology) and received approval from the Higher Learning Commission after submitting a self-study and having a site visit from the North Central Association. The first class of doctoral students in psychology was admitted for the fall of 1996.  The doctoral program in clinical psychology received accreditation from the American Psychological Association in 2000.
The School for Psychological Sciences was formed in 2001 under McIlvried's leadership as Dean. Dr. Jacquie Wall and subsequently Dr. Nicole Taylor directed the clinic that provided psychological services and training opportunities for graduate students. After Dr. McIlvried took on the responsibility to serve as Associate Provost and Dean of the Graduate School, Dr. Richard Holigrocki served as Dean of Psychological Sciences from 2010 to 2015.
In 2016, the School for Psychological Sciences was reorganized as part of the formation of the College of Applied Behavioral Sciences (CABS) under the leadership of Dr. Anita Thomas, who served as dean from 2015 to 2019.  Dr. Torrey Wilson became Dean of CABS in July 2019. –MGC
Academic Stewardship Within the Field of Clinical Psychology: Serving as a "Verger of its Trust"
Essay by Samantha Gray, Ph.D. (Assistant Professor of Clinical Psychology)
I am truly honored to have been invited to share a few of my current thoughts on Marvin Hendricks' essays introduced by Dr. Michael Cartwright. For my contribution to this series, I offer both a brief contextual background and select applications of that content respective to my field – psychology. Throughout the essay are my personal reflections on our privilege and responsibility to serve as institutional "vergers." I have found that the concept of a verger rightly gives a meaningful structure in helping me understand the role of carrying forth intellectual traditions for the university at large, our respective fields of study, and even in our personal lives.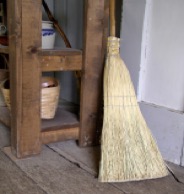 As Michael Cartwright explained in Mission Matters #56, an initial task of those deemed to be a "verger" was to clear the path for those coming down a processional with a broom. From participating in University Seminar for Faculty and Staff last year, I learned this role was one of service, humble caring, and duty rather than prestige per se. I envisioned a "verger" quietly sweeping wooden planked floors, stirring up dust that would settle on either side of the aisle awaiting another day's sweeping, all in preparation for this particular processional. While I am unsure how accurate my visualization of an early verger was, the importance, honor, and responsibility of the role were not lost upon me. The "verger" of the processional (be it within purely academic or religious traditions), later came to be more symbolic. Now, the ceremonial leader may shepherd in the flock as an appointed honor bestowed upon them; and, no longer requiring a broom – but, holding a staff or mace.
My favorite time to experience this task of ushering our current intellectual traditions in a more observable form is during commencement ceremonies. As we line up in order of history (searching for the year we joined UIndy so we know where to stand), snapping a few commemorative selfies, I have learned that I'm in good company when it comes to truly enjoying commencement ceremonies.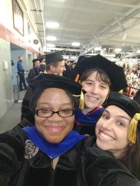 Pictured here are two of my College of Applied Behavioral Sciences (CABS) colleagues, Katie Boucher, PhD & Kendra Thomas, PhD, who I've talked with during the ceremony about how much fun it is to be part of such a wonderful tradition (especially as a faculty member, considering it wasn't too long ago from the time of this photo that all three of us had been students ourselves).
Drs. Boucher and Thomas both teach and conduct research within the Department of Psychological Science. Dr. Boucher's area of expertise is in social psychology, and her research interests include stereotype threat, stigma, and social psych interventions. She is also serving as the Associate Director of the Ron and Laura Strain Honors College. Dr. Thomas' areas of expertise are in educational psychology and human development. Her research interests include world beliefs and perceptions of justice, teacher-efficacy development, and cross-cultural research (including Brazilian and Kenyan youth and families). They are great colleagues and awesome company for the commencement line-up!
The reasons I enjoy commencement are quite varied, but many pertain directly to the spirit of this Mission Matters series of essays. Commencement is one time that we all come together to identify, honor, and celebrate the continuation of intellectual traditions that are rich in purpose and history. As I see the many students walking across that stage during commencement, it is the ceremony itself that reminds me how we must pull from our past, to negotiate our present, in the service of our future.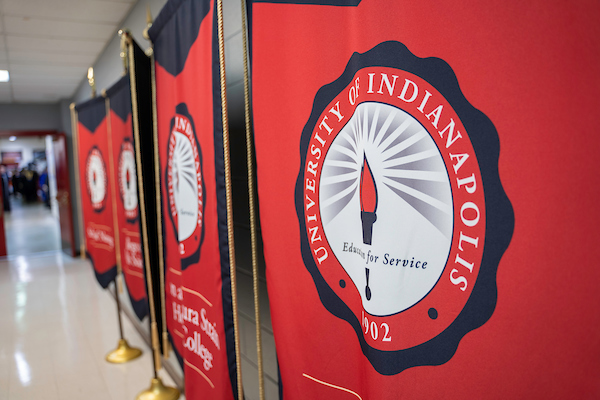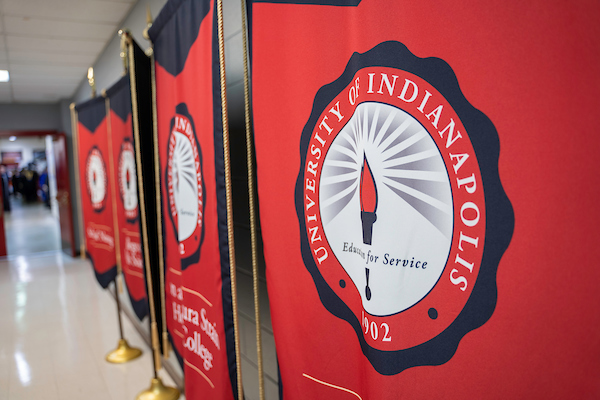 It is also at that commencement ceremony where my attention turns to that of my own field as I line up behind the CABS banner for the processional. I largely teach in the college's Graduate Department of Clinical Psychology; but, I also have the privilege of teaching in the undergraduate program as well. So, as we wait for the ceremony to begin, I find myself flipping through the program to see the names of students I've taught or interacted with on some level. As a junior faculty member, I haven't had the privilege of hooding one of my own doctoral student's yet; but, I am eagerly approaching this milestone. And as it approaches, I am somehow becoming more mindful of the field at large in which they are entering, the education we've helped them obtain, the core intellectual experiences they'll take with them, and their level of preparation for the future.
The "hooding" associated with earning a doctorate degree in clinical psychology is certainly an instrumental procedure steeped in our intellectual tradition. As with all fields, it signifies that the student has successfully completed all degree requirements. In clinical psychology, this includes years of coursework, clinical practicums, a dissertation, and a mandatory one-year internship (a highly competitive process that deserves its own essay). Due to the required internship year, doctoral students in our department typically travel back to Indiana to walk across the UIndy stage, as most students earn internships out-of-state. This is common in our field, and therefore the commencement ceremony also serves as a collegial reunion where we see our students after they've been physically absent from UIndy for a year. Seeing how much they've developed in that past year, and listening to them describe their future plans (from postdoctoral fellowships to various job opportunities), can be quite remarkable. They have joined the ranks of vergers of the trust within clinical psychology!
Not unlike many professional fields, this field of clinical psychology has changed quite a bit in the past few decades – especially in regard to increasing efforts to create, implement, disseminate/utilize, and research evidence-based, empirically-supported treatments. The ever increasing scientific rigor within psychology in general (by mandate and/or natural progression) has also seemingly altered the trajectory of long-standing, rich intellectual traditions among psychologists. Here, we may be able to see how the field of psychology overall (or more specifically, its members) acts as a "verger" of its trust. For it is nothing more than being concerned with the profession's growth, and being a responsible steward of what we have been entrusted to hold and honor (a rich history) as we keep up with current times, in anticipation of future times. The trends in psychology have demonstrated the field's ability to serve as proper vergers of its trust.
One of my own favorite professors expressed these ideals very clearly to me, though a lesson about stewardship of intellectual tradition was not necessarily his immediate intention. This professor's name was Dr. Leonard Handler, an emeritus professor who taught at the University of Tennessee (UT). He was one of those professors who taught until physically unable and arguably taught beyond his years of physical ability. It was clear that he loved teaching, and I am thankful that he chose to continue teaching until my cohort of classmates were able to have him as a professor. We ended up being the last full cohort of doctoral students he would teach.
I should first explain just how, seemingly, different I was to Dr. Handler. He was an older, white, male professor who greatly aligned himself with the psychodynamic theory and interpretation within psychology. He especially seemed to enjoy exploring the evidence of psychoanalytic perspectives specifically within psychological assessment. The psychodynamic/psychoanalytic tradition has a rich history, stemming back to basic Freudian principles, and Dr. Handler proudly taught from those perspectives despite a changing landscape of clinical psychology that is still negotiating the utility of such 'old school' teachings.
I was a younger, black, female, student arriving to Dr. Handler's class with an undergraduate degree in psychology from Purdue University (IUPUI campus – a department who was of the more 'new school' cognitive-behavioral models). I also had a fair amount of undergraduate research experience from the IU School of Medicine, which enhanced my exposure to a more contemporary understanding of psychology. For many reasons, I had been primed to believe that Dr. Handler's teachings were something from the past that needed not be honored, taught, or carried forward. I later got a chuckle from learning that the research lab I had joined as a graduate student had an academic genealogy that was only five generations removed from Freud himself! Granted the past three academic generations were quite focused on developmental psychology, the underpinnings of psychoanalytic psychology could be easily observed given Freud was our great-great-great-academic grandfather. When considered in this way, I realized that the field of clinical psychology was not that old regardless of how much it had seemingly shifted ideologies.  
Dr. Handler ended up being the instructor for my first clinical interventions class. I was quietly critical of his techniques, and his theoretical understanding of basic psychological principles. At times I felt his style was far too intrusive. I worried that this approach was potentially damaging given some clients' personal histories. Yet, I remained flexible, curious, and intrigued. Thankfully, he took stock of the first year, first semester clinical psychology student I was, and simply explained how we can do damage by not incorporating certain aspects of one's history. He further explained that we hold a great responsibility in what we bring forward from people's past, sitting with them to make sense of it, sifting through history, and transforming that into something useful for the client's current and future functioning. Throughout the course of the semester, I came to understand how this was not intrusive when done with thoughtfulness, integrity, empathy, and clinical adeptness. In the writing of this essay, I have come to understand that Dr. Handler was in some ways describing the work of a clinical psychologist as a 'verger of the trust' of their patients.
Perhaps it was because he knew we'd be the last cohort of students he would teach, it became apparent over time that he wanted to leave a tradition of engaging in simple curiosity, complex interpretation, and deep thought with us that he felt was disappearing in our field. There were a few times in which he would discuss this more overtly; explaining that we were the ones responsible for carrying forth the field in a responsible way. I do not believe he wanted us to continue the exact things he did, but to carry forward ideas and practices that were central to guarding the health and protection of the field. This is, in part, how I conceptualize my responsibility to the university's mission and the field of psychology.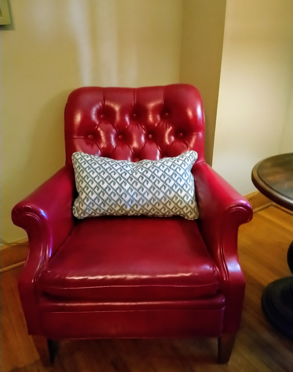 Dr. Handler passed away a few years ago, but all of his students became intellectual vergers of his trust in some ways. I carry him with me into my own classroom seminars and lectures. I was fortunate that I was granted permission to have one of the old, dusty chairs from his office when he retired. Then, I was simply thrilled to have something so lovely from one of my favorite professors. Now, I recognize that I have been entrusted with caring for something important. I am quite thankful that I get to look at it every day in my living room.
I am constantly working to refine my own professional identity as a "generalist" within my field. Today, specializations are growing popular as people carve out niche areas that serve as their areas of expertise. Many will specialize at the post-doctoral level by taking a fellowship in an area they wish to work (and some will go on to pursue board certification in those specialty areas). As a generalist, I accepted a postdoc in an area I wanted to broaden my knowledge base, completing a fellowship in child & adolescent psychological assessment under Harvard Medical's Psychiatry department.
Similar to the more contemporary experiences I gained during my internship with the Indiana University School of Medicine, my postdoc year developed me in ways for this field that went well beyond those inpatient halls at Cambridge Hospital. We participated in mock courtroom hearings as expert witnesses, being cross-examined by a rather talented cohort of law students. I was exposed to far more ethnic and socio-economic diversity in my clinical training caseload, given the demographics the hospital served from the surrounding Boston area. I again saw how integrated healthcare and interprofessional treatment teams could function at their best in the interest of patients. The young patients and families I worked with further informed my own research interests as I saw the impact of technology on their lives. These are a few select experiences only offered in the service of describing what some may consider to be a more modern representation of clinical psychology.
Though I didn't use my degree or training experiences in clinical psychology to become a licensed practitioner, I did follow the path of being a tenure-track professor. I have been privileged to work in the College of Applied Behavioral Sciences for four years. I have taught a variety of courses, including Research Methods, Lifespan Psychology, Couples and Family Therapy, Consultation & Education, Brief Psychotherapy, Foundations of Assessment, Practicum seminars, and a readings course on technology and psychology. 
While I am interested in the entire human lifespan, much of my research interests focus primarily on young adults and involve the examination of social technologies. I have conducted cross-sectional studies on emerging adulthood psychosocial developmental milestones as they relate to technology use and social communication platforms (i.e., social media, cell phones, etc.). I currently oversee several research studies being conducted by my graduate students who explore the relationships between mood, behavior, and social technologies. Six of my students and I recently went to our field's flagship conference (i.e., the American Psychological Association) to present research in this area.
There truly are countless experiences I've had that serve as the foundation for my perspectives as a 'new-school' psychologist. This term, "new-school," has been used as a description of me by folks who have been on their academic journeys much longer than myself. I accept the application of the term, realizing that sometimes the description is simply a quantification of the brief time in which I've been in the field, rather than a complete departure from 'old' ideologies or ways of thinking. Yet, even as ideologies shift over time, I've recognized how old and new schools of thought within psychology are threaded together by the intellectual traditions of the field. To that end, it is likely more accurate to say that there are aspects of many individuals in my field (be them academics, clinicians, or both) which are both old and new school.
In the potential presence of our respective field's demands to be 'new school,' contemporary, or relevant, I am reminded of a remark from that 1980 Hendricks piece:
"In spite of the contemporary insistence on marketable skills for a mundane economy which calls on all of us to spend much of our time being useful in terms of immediate rewards, it is necessary to remember that we are also being "relevant" by nurturing our intellectual tradition."
Whether we are cleaning out a closet, solidifying an identity, moving into a new phase of life, or engaging with the intellectual traditions of our respective fields, our task is remarkably similar. At times, we have the great honor and responsibility of helping decide what to preserve, integrate, adjust, restore, redefine, or remove. Though Hendricks' remarks from the quote above are now almost 40 years old, they remain potentially applicable: As the field of clinical psychology stays relevant, the notion of not flexing to immediate rewards, but yielding to the nurturance of being great stewards of a rich intellectual history may be a useful charge.
Given a general acceptance that growth and change are inevitable, it seems apparent that clinical psychology has maintained some degree of foundational stability in regard to basic structure and core ideals. To that end, I am thankful that growth and change are not incompatible with stability. 
I am hopeful for the continued modernization of psychology, especially surrounding the field's stated desire to become more culturally-competent and diverse. I am hopeful for the continued value of quality education where students have space to delve deeply into their work, nestling their novel contributions among others. I am hopeful for continued collaboration on events and in classrooms between departments that reaches synergistic integration (where it applicably makes sense). Admittedly, my hopefulness comes through the current lenses in which I see the world, and my own integrated perspectives from experiences such as being a student of Dr. Handler's, a great-great-great academic granddaughter to Freud, a 'new-school' / contemporary psychologist, a not-too-jaded Millennial, and a junior faculty member at UIndy.
I am cautiously optimistic that the individuals within the field of clinical psychology will continue to serve as vergers of its trust, being mindful holders of what has been entrusted to our care from our history as we prepare for an exciting future. –SG
****************
I hope you have enjoyed reading Samantha Gray's Mission Matters reflection for this month. Six more essays on intellectual traditions associated with the curricular and co-curricular programs of the university have been commissioned.  Look for the next one to appear at the end of October. Please send your feedback to me via missionmatters@uindy.edu.
Remember: UIndy's mission matters!