Jessica Parra '20 chosen for Axis Leadership Program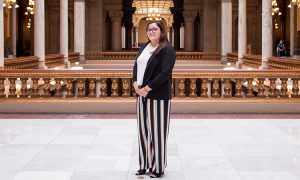 University of Indianapolis senior Jessica Parra was recently named as part of the Axis Leadership Program's 2020 cohort. Parra will graduate in May 2020 with a double major in political science and Spanish, a minor in international relations and a concentration in multilingual translation.
Axis is an eight-month leadership program designed for Latino professionals between the ages of 21-28 to develop personally and professionally and to prepare them to engage with civic and community leadership activities. Upon completion, Axis participants will be equipped and prepared to unify, transform and serve the community.
The program is a partnership between the City of Indianapolis and Indiana Latino Expo. Class members are chosen through a competitive process based on their community involvement, personal vision and achievement.
"I am so grateful to be chosen as a participant for the 2020 Axis Leadership Program," said Parra. "I believe that this experience will allow me to grow professionally and further my involvement within the Latino community here in Indianapolis."
About the program
The concept of the Axis Leadership Program began as part of Mayor Hogsett's Latino Advisory Council as a significant lack of Latino leadership was noted within the Indianapolis community. This program was a dream of many long-standing Latino leaders including Former Advisory Council member Carmen DeRusha, whose unrelenting leadership to see a leadership program come to fruition inspired the leadership team to develop the Axis Leadership Program.
Axis is led by a six-person leadership team: Gloria Jimenez, Jordan Rodriguez, Yecenia Tostado, Guadalupe Pimentel Solano, Angela Brito de Rodriguez and Fabio Yataco.