43rd Annual Lugar Symposium honors memory of Sen. Richard Lugar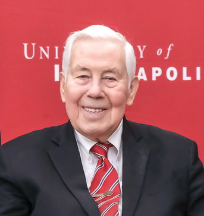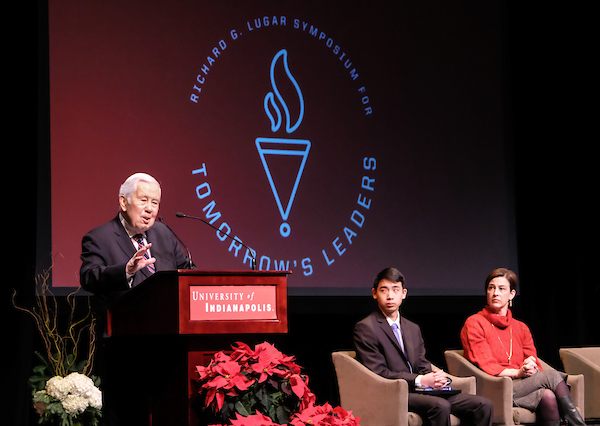 The 43rd annual Richard G. Lugar Symposium for Tomorrow's Leaders featuring NPR's Steve Inskeep, hosted by The Richard G. Lugar Academy at the University of Indianapolis, will bring together hundreds of top high school juniors from Indiana for a day of discussion on public issues and world events on Saturday, December 7. Journalist, author, and host of National Public Radio's Morning Edition Steve Inskeep will be the keynote speaker. 
Part of the expansive legacy former Indiana Senator Richard G. Lugar created in his lifetime, more than 20,000 students have benefited from the symposium in over four decades. After the passing of Sen. Lugar earlier this year, the Lugar Academy determined it was important to maintain his legacy by continuing with his signature event.
"The University of Indianapolis is grateful for Senator Lugar's impressive legacy of service. We look forward to continuing his mission of impacting students and cultivating future leaders at this year's symposium," said University of Indianapolis President Robert L. Manuel. "We also wish to thank Steve Inskeep for his participation as this year's keynote speaker."
Students will select from a variety of breakout sessions on current topical issues, including the 2020 presidential election, immigration and nationalism. In keeping with Senator Lugar's tradition of evaluating issues based on merit, the Symposium ensures students are presented with a balanced view of the issues, rather than a partisan viewpoint.
A limited number of seats are available to the public for Steve Inskeep's keynote address which takes place at 10 a.m. at the Ransburg Auditorium in Esch Hall. RSVP
About the Lugar Academy
More than 20,000 promising students have participated in the Lugar Symposium during the past 40 years, gaining wisdom, insight and access to some of the finest minds available. Principals from every high school in Indiana are asked to select three outstanding student leaders from their junior class to attend the Symposium. Sen. Richard G. Lugar (April 4, 1932 – April 28, 2019) served as a Distinguished Trustee, a former professor of political science and received an honorary degree from the University of Indianapolis, among 46 colleges and universities which bestowed Lugar with the same honor during his lifetime. Lugar was a fifth-generation Hoosier who left the United States Senate as the longest-serving member of Congress in Indiana history. The symposium that bears his name was launched in 1977 as an opportunity to discuss with students topics of local and global importance.
About the University of Indianapolis 
The University of Indianapolis, founded in 1902, is a private university located just a few minutes from downtown Indianapolis. The University is ranked among the top National Universities by U.S. News and World Report, with a diverse enrollment of nearly 6,000 undergraduate, graduate and continuing education students. The University offers a wide variety of study areas, including 100+ undergraduate degrees, more than 40 master's degree programs and five doctoral programs. More occupational therapists, physical therapists and clinical psychologists graduate from the University each year than any other state institution. With strong programs in engineering, business, and education, the University of Indianapolis impacts its community by living its motto, "Education for Service." Learn more: uindy.edu.