Professional Edge Center hits 10,000th student appointment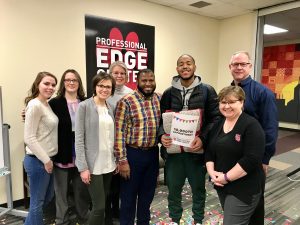 The Professional Edge Center (Pro Edge) marked a major milestone with its 10,000th student appointment recorded in January.
Established in 2013 with philanthropic support, the Professional Edge Center creates a campus culture focused on career readiness and successful graduate outcomes. As early as freshman year, University of Indianapolis students receive expert career guidance from counselors who care. The Professional Edge Center (Pro Edge) works with students to define and achieve their first destination goals. Through essential skills training, one-on-one coaching, career planning and more, students are empowered to become confident, competitive and career-ready.
The Center's commitment to students extends from registration to graduation and beyond, and provides opportunities to make a local impact while integrating Indianapolis into an international business landscape. The Center continues to find ways to incorporate authentic experience through our neighbors and business partners—providing a hands-on, living classroom steeped in the value of realistic settings and scenarios.
"Every appointment with a Pro Edge Career Counselor represents another step to success for a UIndy student aspiring to attend graduate school or enter the world of work. I am incredibly proud of the important work that the Pro Edge staff carry out every day to help students discover their talents and create fulfilling careers," said Corey Wilson, Professional Edge Center associate vice president.
Students from all academic areas can take advantage of what Pro Edge has to offer, starting with the creation of a personal profile in Handshake, a career management system for students and employers to connect. Pro Edge's counselors offer guidance with resume writing, cover letters, personal statements for graduate school and creating reference lists for job applications. Pro Edge also hosts events throughout the year to help students refine professional skills, learn more about various career fields and network with potential employers.
The Success Bell is a familiar sound in the Pro Edge office, located on the second floor of the Schwitzer Student Center. Whenever students have a milestone to celebrate, such as an internship or a job offer, they're encouraged to ring the bell. Stephanie Kendall-Deitz, associate director of healthcare careers at Pro Edge, emphasized the work taking place behind the scenes in order to reach that goal.
"We love to celebrate with all of our students.  We recognize that there is a lot of hard work behind those accomplishments.  We are especially proud of our students who work with us consistently for all four years of their undergrad. These are the students who really buy into our offer to work with them from 'registration to graduation and beyond.'"
Today was certainly cause for excitement when Darryl "DJ" Hutson Jr. '20 (psychology) arrived for his appointment. The whole team was there to celebrate this milestone, and Hutson expressed his gratitude. He stated, "Ms. D helped me get my internship at Youth Villages in Memphis, and since I finish this May, Tremayne is helping me find so many more connections to the type of job I want to be in.  Pro Edge is the best and the greatest resource on campus.  Love them to death!"
Here's to a future full of promise for the both Professional Edge Center and the students dedicated to their professional success!