University of Indianapolis online Master's in Nursing program jumps in national rankings

University of Indianapolis School of Nursing online programs made the U.S. News & World Report's Top 100 Schools in 2020, moving up 57 points in the Best Online Master's in Nursing Programs category from 118 to 61. University of Indianapolis' online programs are among more than 1,200 programs surveyed by U.S. News. Only regionally accredited institutions whose programs are offered mostly or entirely online were evaluated.
"We are excited to see the School of Nursing recognized as a top-ranked nursing school in the country, but our true accomplishment is knowing that, in a time of increasing health inequities, we are preparing nurses who have the potential to have a positive impact on their patients' health and well-being by providing quality and safe care to all," said Norma Hall, dean of the School of Nursing.
"It's the dedication of our students, faculty, staff and alumni that make the School of Nursing an innovative, transformative and inclusive environment which allows students the flexibility to pursue an advanced nursing degree at their own pace," Hall added.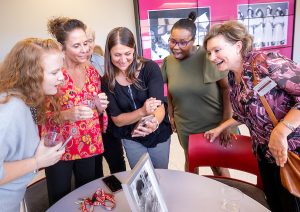 The national recognition arrives amid the School of Nursing's 60th-anniversary celebrations during the 2019-20 academic year, with a Celebration Dinner held in September that brought together students, alumni, faculty, staff and friends. Thanks to the generosity of sponsors and supporters, more than $27,000 was raised through the event, with proceeds benefiting scholarships for UIndy nursing students.  
The 60th anniversary of the School of Nursing was also honored during Homecoming activities, including Founder's Day remarks offering reflection on the school's history, a Homecoming parade featuring School of Nursing alumni, staff and students, School of Nursing recognition during the Homecoming game, and special recognition of nurses during the President's Lunch on the lawn of Good Hall. 
Author and researcher Elizabeth M. Norman visited campus in November to host a discussion about her book, "We Band of Angels: The Untold Story of American Nurses Trapped on the Bataan by the Japanese." This special event was part of the University's Penrod Lecture Series, in conjunction with Veterans Day and the year-long celebration of 60 years of the School of Nursing. See more events here.
Learn more about the University of Indianapolis School of Nursing.