University of Indianapolis holds dedication for Jordan Loyd Film & Study Suite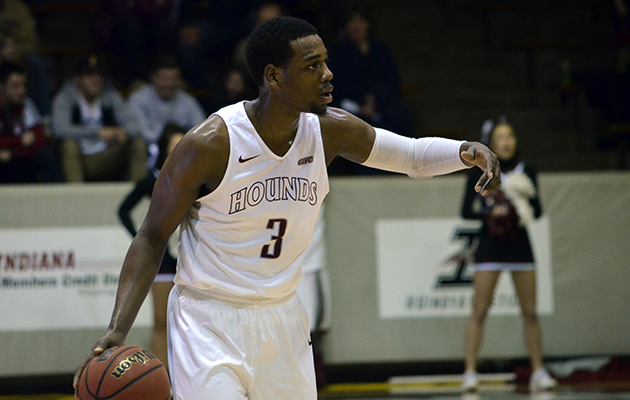 The University of Indianapolis will celebrate its newest athletic space with a dedication at 1:15 p.m., Friday, February 21 at Nicoson Hall.

The Jordan Loyd Film & Study Suite, funded by Board of Trustees member Kenny Loyd and son Jordan Loyd '16, along with gifts from other generous alumni and friends, provides the men's basketball team with a top-notch film study and academic study space.
With theater seating for twenty, this space will enhance the recruiting and retention of talented student-athletes. The suite includes a recognition space to celebrate the team's athletic and academic achievements. The addition of the Jordan Loyd Film & Study Suite will help men's basketball continue its long history of successes on the court and in the classroom.
"This milestone event is another example of how alumni and Greyhound families can help further the capabilities of the programs that shaped them. This great testimony to giving back serves as confirmation that we are impactful in the lives of our students," said Robert L. Manuel, University of Indianapolis president.
Kenny Loyd, president and co-founder of South Coast Paper from Atlanta, Georgia, whose early enthusiasm and advocacy for the project helped see it to fruition. 
Jordan Loyd is a 2016 graduate and 1,200-point scorer who helped the Greyhounds men's basketball team reach three NCAA tournament appearances including a Sweet 16 berth. During his senior season, Loyd was named to the All-GLVC First Team and GLVC All-Defensive team. In 2019 Loyd became the first Greyhound to play in the NBA with the Toronto Raptors. When the Raptors won the NBA Finals, Jordan became the first Greyhound alumnus to be a member of a National Basketball Association professional championship team. Loyd is currently playing in the Euroleague in Valencia, Spain. His team is also concurrently a member of the top tier Spanish basketball league.
The Jordan Loyd Film & Study Suite pays homage to Dai-Jon Parker, Jordan Loyd's close friend and fellow Greyhound basketball student-athlete who passed away in 2015.