School of Nursing adjusts to aid in COVID-19 support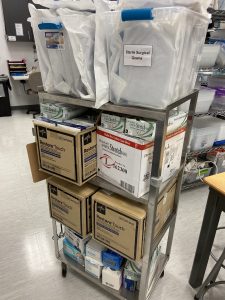 The University of Indianapolis is finding innovative ways to ensure continuity for students as well as to support the local community during the COVID-19 crisis.
Since hospitals began admitting COVID-19 patients, School of Nursing students have been prevented from completing their required clinical hours in person. To remain in compliance with the accreditation requirements for the SON, students have been allowed to substitute clinical hours with virtual experiences. Normally, those hours would be a maximum of 25% of the total hours for each course in the undergraduate program as prescribed by the Indiana State Board of Nursing (ISBN). With the current COVID-19 crisis in effect, the ISBN is allowing schools to fall back on national guidelines which allow up to 50% of hours in simulation. With that change, the SON has contracted with Kaplan to provide virtual simulation for the remainder of the semester. These virtual experiences will be used in conjunction with guided case studies to meet the required hours.
"Changes in how we deliver clinical education will allow students in the undergraduate nursing programs to satisfy more of their required clinical hours virtually rather than in person," said Dr. Norma Hall, dean of the University of Indianapolis School of Nursing. "This is especially important for senior students who are set to graduate this May."
Hall also noted that keeping students on schedule using virtual experiences will allow students to continue their training and enter the workforce this summer as registered nurses. As the cases of coronavirus continue to rise, there will likely be workforce shortages. 
"Our graduates will be entering the workforce at a critical time to alleviate staffing shortages that COVID-19 will cause within area hospitals," said Hall. "The knowledge and skills our nursing graduates gained at UIndy will be taken into the workforce to care for the sickest of the sick at a time of great need. I couldn't be more proud of our faculty and students for remaining flexible and resilient during these trying times."
The School of Nursing has also been proactive in trying to aid local health organizations in their fight against COVID-19. The School of Nursing organized the donation of some materials on-hand to local hospital networks, including Community Health Network and Franciscan St. Francis. The donations included 8,500 pairs of gloves, 30 surgical gowns, 450 surgical masks, 150 thermometer probe covers, and 10 stethoscopes.
The School also made the decision to forgo their shipment of gloves for the month of April (and potentially beyond) so that they might be given to those who need them more.