WICR adapts to pandemic restrictions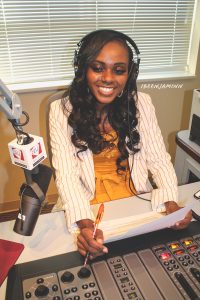 We've all heard the saying, "The show must go on." University of Indianapolis students learned firsthand how to keep the show going when coronavirus (COVID-19) struck in the middle of the spring semester. WICR, the student-run radio station that broadcasts from campus, has remained on the air throughout the pandemic, thanks to some out-of-the-box thinking and a lot of collective hard work.  
WICR (88.7 FM/HD) is Indianapolis' only jazz and classical music station. It's also a fertile training ground for Department of Communication students, with many successful careers launched at the station. Faced with a dual obligation—to students who rely on WICR for experiential learning, and to the general public who tune in every day—general manager Scott Uecker knew he'd have to get creative in order to meet everyone's needs. And he required a solution immediately.
"We couldn't wait because we had to keep the radio station on the air," Uecker said. 
Working with the radio station staff, Uecker decided to pay a limited number of students who felt comfortable performing essential functions in the studio facility. Keeping social distancing restrictions in mind, most student air shifts switched from in-person to pre-recorded voice tracks. 45 students contributed voice tracks, which a skeleton crew loaded onto a server to get them on the air. 
Uecker noted that University of Indianapolis broadcasting alumni working at radio and television stations across the country had to resort to similar strategies recording from home, just as WICR worked out its own solutions.

"We're teaching the students to persevere and use the technology they have at their disposal," he said. "I'm very thankful for the UIndy administration and the leadership in human resources for working with us to find a way to get students who were essential to our operations on campus, but we also had to make a number of changes to keep them safe while they were here."
Uecker and his staff coached students on best practices for recording themselves while maintaining professional standards. Even as students dispersed mid-semester when in-person instruction shifted to remote or alternative delivery methods, they were still able to access the opportunity for hands-on learning. WICR listeners may not have known it at the time, but they were listening to contributions from students across five states and three countries—besides the United States, international students from Russia, Colombia and Brazil also participated.
WICR's news director Taylor Woods '21 (electronic media communication major, political science minor) adapted to producing remote newscasts from home. She also had to instruct and manage her team remotely, which involved Zoom editorial meetings.
"Not only are we delivering remote newscasts but so are news stations across the country. This shows how much technology has really prepared us all for crises and unprecedented times such as this," Woods said.
Promotional events, on-air contests and live newscasts in the afternoon drive have been temporarily suspended. WICR-FM/HD1 has staffed only the essential live on-air shifts since mid-March, while the station's HD 2 and 3 channels have operated in a fully automated mode since the end of the semester.  Student management staff and a limited number of student volunteers designated as essential continue to be responsible for on-air, production and programming tasks.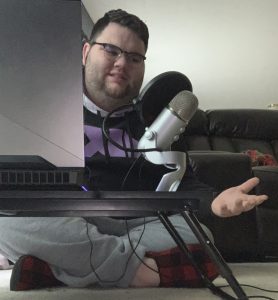 Aaron Duvall '20 (communication) took on the role of operations manager in May after serving as the station's production director for the past two years. He said working through the pandemic has taught him patience as he and his student colleagues adjusted to the new normal. He also has a newfound appreciation for the role of the broadcasting industry in society.
"One of the bigger takeaways I have from working through the coronavirus pandemic is how much impact radio and local media really has on its community. You hear about it all the time, but seeing it firsthand really makes it feel like we have an impact," Duvall said. "I'm very thankful for the opportunity to come in and do something I love and also add something to the audience's day."