Music class forges generational connections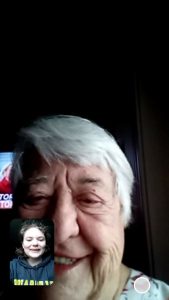 Students participating in a Department of Music class not only learned to adapt to the demands of distance learning this semester. They also got the chance to develop newfound relationships.

Rebecca Sorley, director of student support and professor of music at the University of Indianapolis, taught a spring term class entitled, "Connecting Generations Through Music." The Center for Service-Learning was involved in the creation of the course a few years ago. Sorley formed the syllabus when she was in a cohort of faculty who were learning how to teach a service-learning course.
It was Sorley's fourth time teaching the class, with one notable difference. Students typically traveled as a group to an assisted living facility near the University and conducted music activities with residents, along with speaking with them. Due to restrictions imposed by the coronavirus pandemic, each student was assigned an older adult to partner with. Students took on the responsibility of setting up virtual interviews with someone they'd never met.

"This would not have been easy for any age group, but the students really stepped up and made this service a priority in their lives," Sorley said.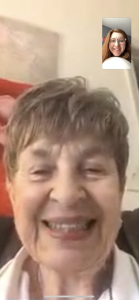 Sorley paired her students with 13 older adults from Woodland Terrace of Carmel, where her daughter, Allegra Hein, works as a music therapist. She also connected students with older adults from her church connections and from the University's Adult Music Program.

The requirement called for a fifteen-minute Facetime or Zoom call with the adult six times in the three-week term. As well as talking about music, students and their interviewees talked about past experiences, technological challenges, COVID-19 restrictions/challenges, and life in general.

"The students have really stepped up to make this a special thing for their partners and, in doing so, it has been meaningful for the students as well. The requirement was a 15-minute call, but I have heard stories of calls going over an hour because they had so much to talk about," Sorley said.

Both students and their partners proclaimed the class a huge success.
"Nothing is as important as education! I saw how my student partner came alive because of the way the class was structured. I also enjoyed learning at my age. Education can be fun, interesting and informative. I just wish all young people and adults would take advantage of it," said Jane Williams, resident at Woodland Terrace of Carmel.
The students fostered relationships that will last a lifetime.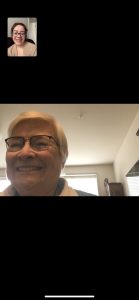 "I looked forward to every meeting because it was just so nice to have someone new in my life who looked forward to meeting and chatting with me," said Alejandra Rico, '22, (music education). "I loved listening to all of her stories and hearing all of the amazing things she has done over the years. She opened up to me so much, and she was never shy! She told me so many things about herself, her family, her experiences. It was amazing to absorb all of the information and learn more and more about my new friend every week." 
In their reflections, students revealed feeling nervous about calling someone they didn't know. But gradually their interviewees became friends by the end of the course. Several students plan to continue their new relationships and meet in person when possible.
"The course was meant to provide a service to the older adults, but it worked both ways. The students really enjoyed having one-on-one conversations with someone who had more life experiences than they had," Sorley said. "This was probably my most fulfilling teaching experience of my life!"