Jeremiah Gibbs takes additional role as pastor of St. Andrew UMC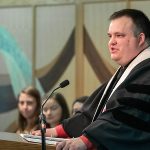 Jeremiah Gibbs, University Chaplain and director of the Lantz Center Christian Vocations & Formation, will be appointed as pastor of St. Andrew United Methodist Church as of July 1. Gibbs will continue in his roles at the University of Indianapolis, which include assistant professor of philosophy & religion, while he serves St. Andrew UMC on a part-time basis.
St. Andrew is a congregation actively engaged in the traditions of Gospel-centered sermons, gospel music, Christian hospitality, service to the community and outreach mission work. Gibbs noted St. Andrew's long history of serving the neighborhood to the north of the University of Indianapolis with preschool, a food pantry and events like the semi-annual neighborhood fair.
"I'm hopeful that this new connection will enable UIndy to provide an avenue for some of our students to find a place nearby to participate in church life," Gibbs said. "I also hope that it can serve as a kind of 'outpost' for University initiatives to do service in that neighborhood as well."
"We are excited that Rev. Dr. Jeremiah Gibbs has agreed and will expand his appointment to serve the congregation of St. Andrew United Methodist Church, effective July 1," said Aleze Fulbright, Conference Superintendent of Central District. "We celebrate Dr. Gibb's call as a pastoral leader and know he will continue to share the Good News in new and profound ways. I am equally excited about the possibilities that could emerge through Dr. Gibb's connection with the congregation, community and the University of Indianapolis."
Gibbs will continue to oversee the Ecumenical and Interfaith Programs office at the University of Indianapolis. In his role at the University, he takes primary responsibility for the ecumenical Christian ministry on campus. In addition to the Christian worship and related programming, he also leads the Lantz Center for Christian Vocations that includes the freshman Threshold Retreat as well as the two years of spiritual formation courses known on campus as CVOC classes.
Recently Gibbs has led the office to develop a network of community groups to address loneliness and mental health challenges that the chaplains have ministered to on campus. About 130 students joined a community group this year with book and Bible studies, exercise groups, creative groups, and service groups. Many of these groups continued in a virtual format after social distancing began. Christian ministries also continued in a virtual format with weekly online chapel services and daily video devotionals on social media.
Gibbs is a graduate of Eureka College and Garrett Evangelical Theological Seminary (M.T.S. and Ph.D), and he is an Elder in the United Methodist Church.
While in seminary, Gibbs served as Youth Pastor and/or Director of Young Adult Ministries for United Methodist congregations in Wisconsin and Illinois. He has been University Chaplain and Director of the Lantz Center at UIndy since 2009. He recently released his second book, Find Your Place in God's Mission (Foundery Books, 2020), that guides readers to discern their calling in their career. Gibbs is married to the Rev. Jenifer Stuelpe Gibbs, who is senior pastor of Castleton United Methodist Church in Indianapolis.