Shayla Pyszka Joins OneAmerica as IT Analyst Intern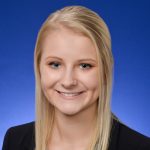 Honoring a commitment to its highly sought-after internship program, OneAmerica Financial Partners welcomed 18 college students this summer, including Shayla Pyszka '21 (information systems, applied analytics), for key support roles to drive business objectives.
She spent the summer working in information technology as an IT analyst. By concentrating on the web and applications side, she spent the bulk of her time focusing on a mobile project by creating an app. While this isn't her first internship, she's excited to intern at OneAmerica and be in an area closely aligned with her career aspirations.
"I enjoyed having a 'real-world' work structure and networking with those in the field I'm going to pursue," Pyszka said. "When I interviewed, everyone made me feel comfortable. The friendliness and culture of the company drew me here."
Pyszka is active in student and business groups in Indianapolis. She's the president of the Student Business Leadership Academy and is in the data analytics club at the University of Indianapolis. She is a graduate of LaSalle-Peru Township High School.
Interns worked a 12-week assignment providing support to departments such as actuarial, commercial mortgage, finance, IT, human resources, and marketing. Pyszka and the rest of her cohort worked virtually but interactively, collaborating on critical operations and community projects, expanding their work experience and relationship-building skills.
"Our summer intern program has historically been a robust and immersive experience, as we align the financial services industry's next best and brightest into our workforce," said Karin Sarratt, executive vice president. "This year is no different. Our remote work environment will make their opportunity unique, but make no mistake, they will be helping us move toward reaching our business goals and filling our talent pipeline."