Family Weekend brings special reunion for UIndy mascot Grady and sister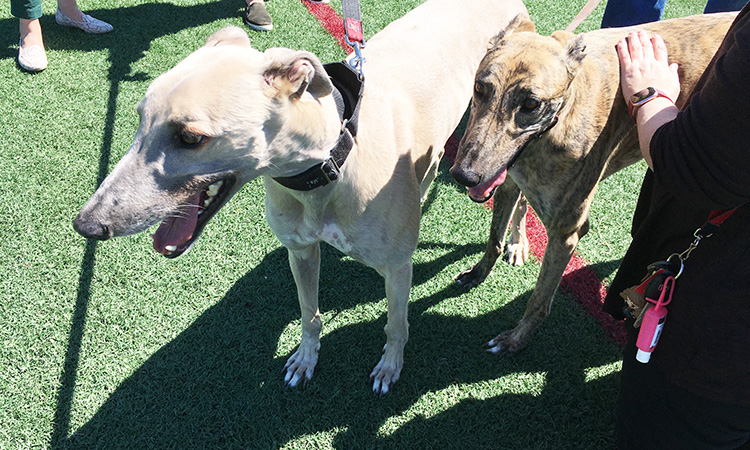 UIndy's Family Weekend kicked off with a special reunion between Grady the Greyhound and his sister, Misty.
Before arriving at the University of Indianapolis in November 2019, Grady was a racing Greyhound in Daytona, Florida. Misty, also a retired racer, was with him every step of the way until their retirement. Both were raised together and had the same trainer.
Paul Nance, who adopted Misty, soon learned of Grady's new role at UIndy. After some detective work, he confirmed that Misty and Grady were indeed littermates and knew that the pups had to have a reunion.
"It's such an amazing experience to see them actually play together," Nance said. "Greyhounds often get separated when they are retired because they retire at different times. To have two Greyhounds from the same litter end up in the same city through different adoption agencies is absolutely amazing."
Grady's handler, Coran Sigman, was excited for this to be Grady's first Family Weekend, which the happy reunion made even more memorable.
"When you first introduce them right at the beginning, you want to do it in a safe manner, make sure everything is all good. Tails were wagging immediately! It's nice for this to be Grady's first Family Weekend. He's still finishing up his first rookie year."
With many Family Weekend events moving online due to pandemic restrictions, Sigman reflected on the Greyhound commitment to supporting each other.
"Obviously this year has thrown everyone for a loop. Family is what matters most and at UIndy family means something a little bit more and it's a little more special. My husband and I are both alums, we both work here, Grady's now a part of this. Keep your family close and that's what matters most right now."