UIndy CAC helping train National Guard for COVID-19 response in nursing homes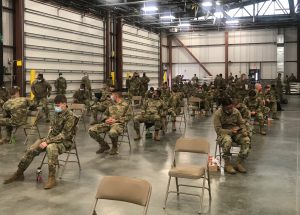 When members of the Indiana National Guard take their places at the state's more than 500 nursing homes this week and in the months to come, they will do so with training provided, in part, by the University of Indianapolis Center for Aging & Community (CAC). Indiana Governor Eric Holcomb announced in late October that Indiana National Guard troops would be deployed to nursing homes to provide support to staff who have been on the front lines since the pandemic began last spring.
"Nearly 11,000 residents in Indiana nursing homes have contracted COVID-19 since March; more than 2,400 of those residents have died," said Dr. Ellen W. Miller, executive director of CAC. "While only six percent of Indiana's COVID cases have occurred in nursing homes, those cases account for more than 57% of the state's COVID-related deaths."
This disproportion contributed to the decision to call up the Indiana National Guard, Miller said. The National Guard is not being tasked with resident care responsibilities, but will help with additional administrative tasks that have emerged because of COVID-19.
"That will allow the nursing home staff to focus on caring for the residents," Miller said. 
For the past eight years, CAC has worked with the Regenstrief Institute to embed nurses with specialized training in nursing homes to reduce avoidable hospitalizations. The effort, known as the OPTIMISTIC Project, was so successful that the leaders of the federally funded demonstration project teamed up with business development experts to found a medical startup company called Probari in order to bring similarly structured training to nursing homes around the country.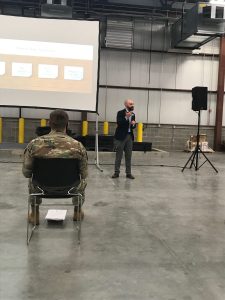 So, when Holcomb called up the National Guard, Probari was tapped to provide training in long term care before the deployment. Miller, who was part of the leadership of OPTIMISTIC, worked with Probari's Dr. Kathleen Unroe and Russell Evans, as well experts from the nursing home industry, Lori Davenport and Rebecca Bartle, to construct a half-day curriculum for the troops.
"In addition to training soldiers specifically how to perform their new roles, we designed the training to give them an appreciation of how tough things have been for nursing home residents and staff during pandemic-related lockdowns, an understanding of what to expect on a typical day in a nursing home, and how to protect residents and themselves from infection," Miller said. 
According to Miller, the Guard will be helping with COVID screening at building entrances, data entry related to frequent testing, facilitating family visitations, and cleaning high touch surfaces in nursing home common areas. More than 1,400 National Guard personnel will be trained and deployed. The first of seven trainings took place on Friday, October 30 at Camp Atterbury in southern Indiana. The Guard is scheduled to be in place through December 31, 2020.
In addition to the OPTIMISTIC project, CAC has coordinated infection prevention training for nursing homes in Indiana for several years at the request of the Indiana Department of Health. CAC will also be a part of a new Indiana Nursing Home COVID-19 Action Network as part of Project ECHO (Extension for Community Healthcare Outcomes). Led by the Richard M. Fairbanks School of Public Health at Indiana University, this ECHO program is geared specifically for nursing home leadership to build capacity related to COVID-19 and protect residents and staff.