UIndy community steps up to sponsor foster children for Christmas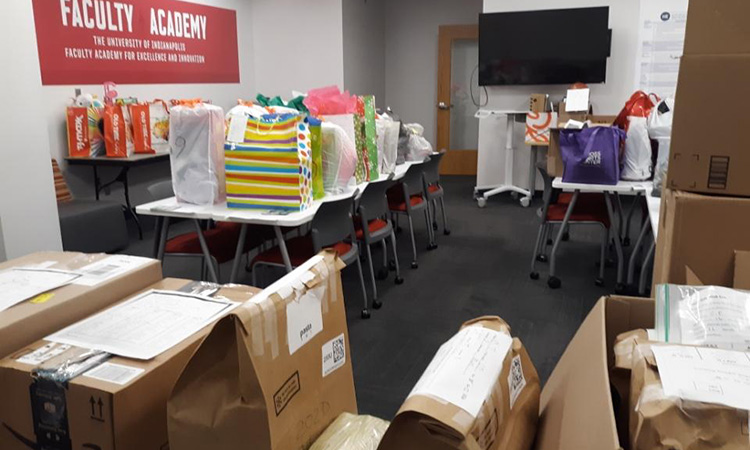 In November, Beth Kiggins, instructor at the Faculty Academy, reached out to the UIndy community to sponsor foster children from the Indiana Department of Child Services for Christmas. As a result, 43 incredibly giving members of the UIndy community sponsored 85 children.
"We do this every year and have always had good participation, but this year was over the top," Kiggins said.
The gifts were assembled in KML 220, home of the Faculty Academy, which temporarily turned into Santa's workshop. DCS personnel visited campus this week to pick up the gifts.
"There are going to be lots of smiles on a lot of children's faces come Christmas thanks to the giving nature of our community. I love UIndy!" said Kiggins.
Yvonne Wakeford, director of UIndy's Human Research Protection Program, participated in the sponsorship drive.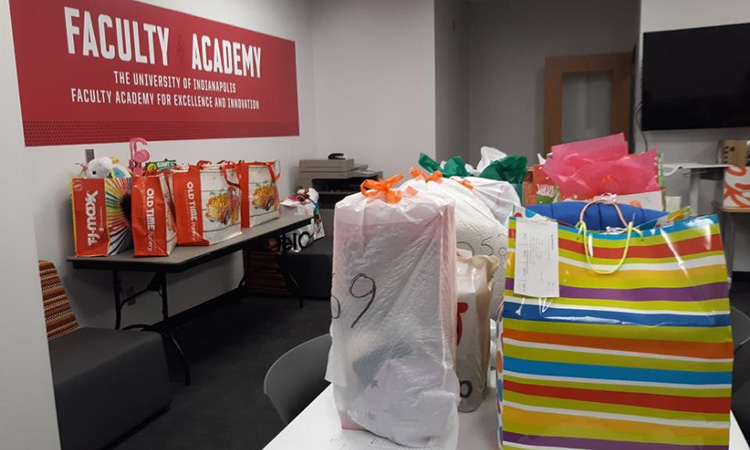 "Very festive. Now it really feels like Christmas!" she remarked after seeing all the gifts lined up for delivery. "It brought my husband so much pleasure taking a look at the cars and trucks and books for the kids. That alone made HIS Christmas."
Laura Merrifield Wilson brought her and Matt Wilson's young son, Liam, when she dropped off their gifts. "It is amazing!!! He couldn't believe how many things there were – even though I told him that we were a part of a team of elves!" she said.
James Summons with the Department of Child Services expressed his gratitude:
"I would like to take a moment and thank you for your hard work in providing an amazing Christmas for so many children. The looks on the case managers' faces were unbelievable. I can only imagine the looks on the children's faces on Christmas morning. I would like to thank everyone who took the time and donated to the children in need."