University of Indianapolis Department of Theatre announces regional world premiere of "Kill Move Paradise"

The University of Indianapolis announced a live-stream theatre production of James Ijames' groundbreaking work, "Kill Move Paradise" at 8:00 p.m., February 26-28 and March 4-6, 2021. Produced in collaboration with the University of Indianapolis Black Student Association and the Office of Inclusion & Equity, this regional world premiere of "Kill Move Paradise" is guest directed by Indianapolis-based multidisciplinary artist Ben Rose. The live-stream is open to the general public and pre-registration is required.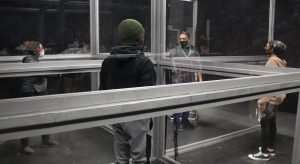 "Kill Move Paradise" follows four young Black people who find themselves stuck in a purgatory-like waiting room for the afterlife. Isa (Joshua Short), Daz (Robert Gurley '24, theatre and psychology major), Grif (Kelli Thomas '23, theatre major) and Tiny (Sarah Cunningham '24, pre-nursing) are forced to confront the reality of their past and how they arrived in this unearthly place. Inspired by the ever-growing list of slain Black men and women, "Kill Move Paradise" illustrates the potential for collective transformation and radical acts of joy. The play also uses humor to highlight the natural dynamics among the group. 
"That's what I love about James Ijames," director Ben Rose said. "He's made this subtle piece in an abstract environment where you're learning and resonating and laughing, but you're also feeling the weight of it."

The play, which was recognized as a New York Times Critic's Pick when it debuted in 2017, was adapted for the University of Indianapolis performance. Originally written for four male protagonists, playwright James Ijames granted permission to make one of the characters female, which allowed for the expansion of gender diversity among the cast. Another female actor plays the role of a young boy. 
"The playwright has allowed us a lot of latitude," said Rose. "It's been easy to transform this play in the way we needed to."

Rose cleverly combines pandemic restrictions with the play's exploration of yearning for connection by creating a set of plexiglass cubicles on the stage, allowing the actors to interact while maintaining physical distance and resulting in an apropos setting for a timely discussion.

"The idea that we can create this space where we are talking about Black martyrdom and there's this play that's been written about it and we can broadcast out through our mass media—it all clicked together," Rose said.
Dr. Grant Williams, associate adjunct professor of theatre, suggested the play after witnessing the Black Lives Matter protests around the country in 2020. "In light of the brutality, injustices and protests sweeping the country last year, we felt, as a department, that we wanted to contribute to that discussion and allow our theatre to add a voice of both protest and discussion," Williams said.
The UIndy Department of Theatre collaborated with the Office of Inclusion & Equity to drive awareness and involvement in the production among students of color, an effort that Williams said is just the start. 
"Beginning with 'Kill Move Paradise,' as well as a continuing collaboration with both the Black Student Association and the Office of Inclusion & Equity, our department looks to produce more works in the coming years that give voice to Black students and promote more diverse theatrical work," he added.
"Working in partnership with the Department of Theatre and through the programs established on campus by the Office of Inclusion & Equity, our goal is to encourage more students of color to explore the performing arts and to create more organic relationships between faculty and students of color," said Dr. Amber Smith, Vice President & Chief Inclusion and Equity Officer. 
For University of Indianapolis students, "Kill Move Paradise" provides the opportunity to connect with an established professional artist while exploring powerful contemporary themes that resonate with their lives. Senaite Tekle '21 (theatre), stage manager, noted the play's parallels with Black Lives Matter goals.
"The idea of the Black Lives Matter movement brings light to the unlawful, racially motivated violence against Black people. 'Kill Move Paradise' sheds light on the slain Black men and women who were taken from their loved ones," said Tekle. "This play also forces the audience to listen and take in the importance of how Black people have been treated throughout history in this country."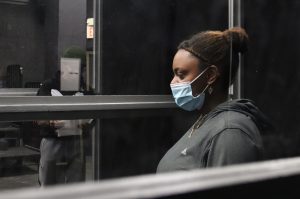 "This is my first show that is centered around the Black experience and involved an all-Black cast. It's really beautiful seeing people like me being so highly represented in the art that I love," said Kelli Thomas '23 (theatre and sociology), who plays the role of Grif.

NOTE: Six virtual performances will be offered Feb. 26-28 and March 4-6, 2021. The March 4th performance will be followed by a discussion of the topics explored in the play. Pre-registration is required and virtual seats are limited.

About the University of Indianapolis
The University of Indianapolis, founded in 1902, is a private university located just a few minutes from downtown Indianapolis. The University is ranked among the top National Universities by U.S. News and World Report, with a diverse enrollment of nearly 5,600 undergraduate, graduate and continuing education students. The University offers a wide variety of study areas, including 100+ undergraduate degrees, more than 40 master's degree programs and five doctoral programs. More occupational therapists, physical therapists and clinical psychologists graduate from the University each year than any other state institution. With strong programs in engineering, business, and education, the University of Indianapolis impacts its community by living its motto, "Education for Service." Learn more: uindy.edu.