Nursing alum completes White House internship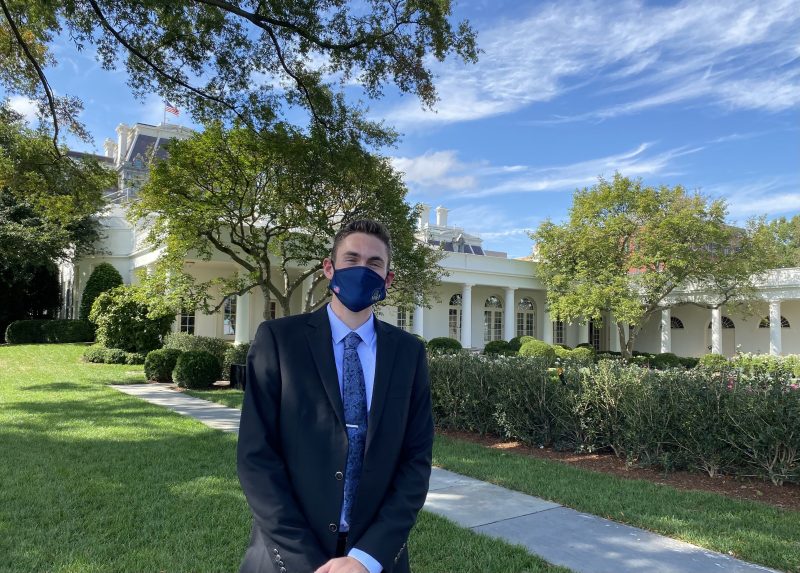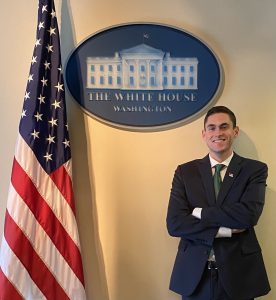 Jacob Whatley '19 is one of the first University of Indianapolis graduates to intern at the White House. His career as a nurse was just beginning at Franciscan Health in Indianapolis when the COVID-19 pandemic hit. His experience treating patients in intensive care helped Whatley stand out as an applicant for the sought-after internship position in the Office of the Vice President. 
Whatley grew up in a small town surrounded by cornfields and says he "certainly didn't have connections to any Washington elites." Even though it seemed like a longshot, he submitted an application in 2020 after being encouraged by Michael Poulakis, assistant professor in the School of Psychological Sciences.
"Throughout my application, I talked a lot about being an ICU nurse on the frontlines during the COVID-19 pandemic and also addressed what I thought were flaws in our country's healthcare system," he said. "I figured this opportunity would give me the chance to observe policy development at the federal level and also witness how the executive branch of government responds to a global crisis."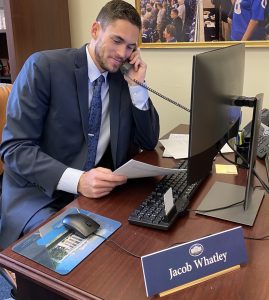 When Whatley found out he had been accepted into the program, he was "so excited that I couldn't even eat for the rest of the day. I felt like Charlie Bucket when he found Wonka's last golden ticket."
The four-month position began in September 2020, at the same time the COVID-19 death toll was nearing 200,000 in the United States. (Source: The Covid Tracking Project)
"I'd be lying if I said I wasn't ready for a break from the ICU. It was a very difficult place to work, especially for a new graduate," said Whatley. "I can't say thank you enough to the doctors, nurses, respiratory therapists, housekeepers, maintenance workers, and everyone else who have kept hospitals operational during this pandemic. You are not alone. You are appreciated."
Most of Whatley's time in DC was spent on the White House Complex, about 18 acres of land that includes the East Wing, the Presidential Residence, the West Wing, and the Eisenhower Executive Office Building.
"I got goosebumps every single day when I walked through the White House gates. It was something that I never imagined that I would have the opportunity to do," he said.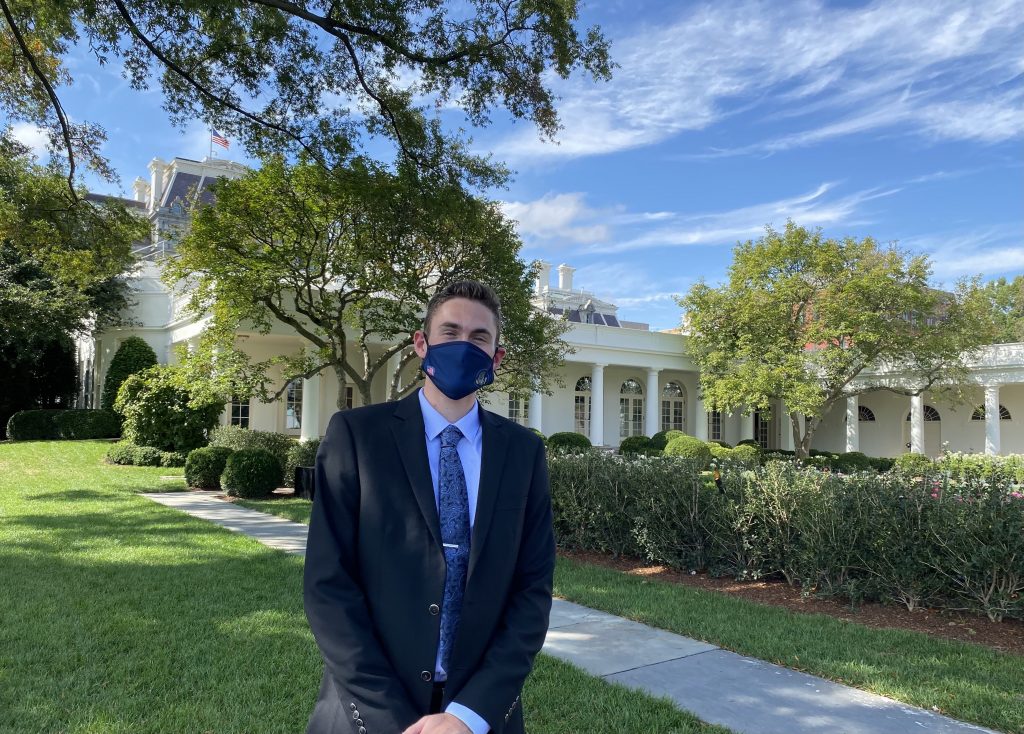 Whatley interacted with several members of the Coronavirus Task Force, including Dr. Deborah Birx, U.S. Surgeon General Jerome Adams, and Secretary of Health and Human Services Alex Azar. He prepared materials that were used in the Situation Room during the Coronavirus Task Force meetings and also assisted the Vice President's policy team by drafting memorandums on topics such as healthcare, vaccines, vaccine hesitancy, cycle thresholds, and previous pandemics.
"My background as an ICU nurse served as a differentiator at the White House and I believe I brought a unique perspective to the internship program," he said. "I was able to share insights from my time on the frontlines with Dr. Birx and offer insight into what ICU nurses were facing."
Whatley said he has always been interested in politics and policy, but hadn't considered it as a potential career until recently.
"The COVID pandemic increased my interest in policy, mostly because of the frequent policy changes that I was witnessing at the hospital," he said. "As an intern at the White House, I found myself at the intersection of healthcare, policy, and government. I enjoy helping people and I want God to put me where I can do the most good, whether that's at the bedside or working in policy. It's something I think about and pray about every day."
The internship was also designed to be a learning opportunity. For example, during the height of the pandemic, Whatley learned about viral mitigation from members of the White House Medical Unit who provide care for the President and the Vice President.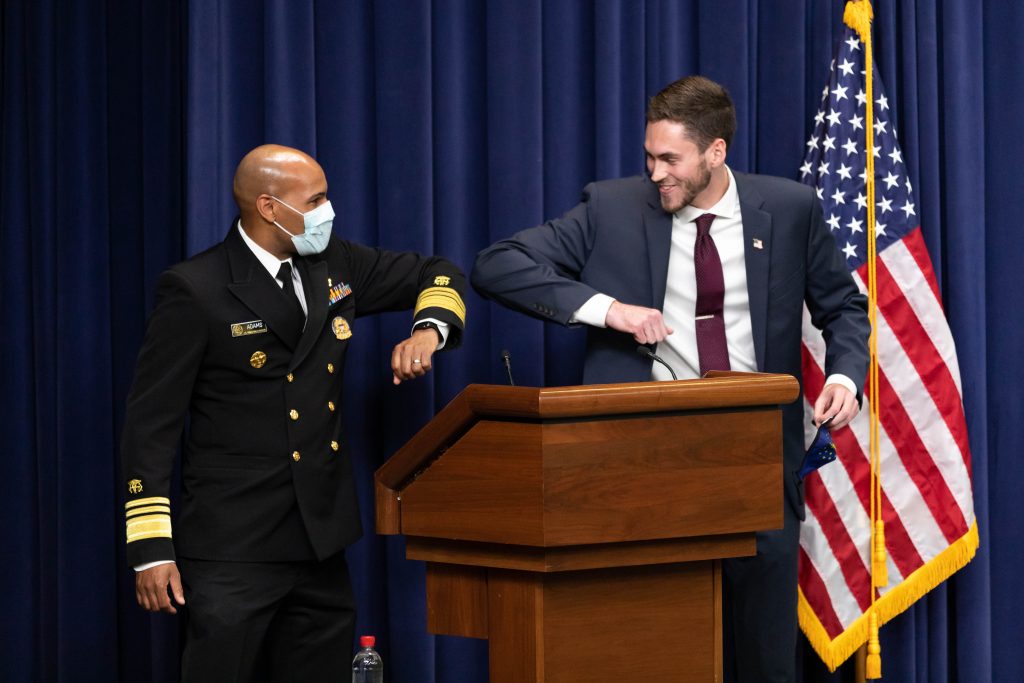 "No day at the White House was the same," said Whatley. "It is a place where history continually unfolds and I was fortunate enough to be there during a very historic time. The signing of the Abraham Accords, the death of Supreme Court Justice Ruth Bader Ginsburg, the appointment and confirmation of Justice Amy Coney Barrett, the development and distribution of a COVID-19 vaccine, and a highly contentious presidential election to name a few."
Whatley, who delivered the undergraduate student commencement address in May 2019, said the UIndy School of Nursing prepared him for this "once-in-a-lifetime opportunity."
"UIndy provided me with the tools that I needed to be successful," he said. "I leveraged many of my UIndy connections to make this opportunity possible and I am so grateful for those who helped out. I am so blessed to have had the opportunity to serve the American people in this capacity."
In November 2020, Briyana Morrell, assistant professor in the School of Nursing, and her family came to visit Whatley in Washington, DC.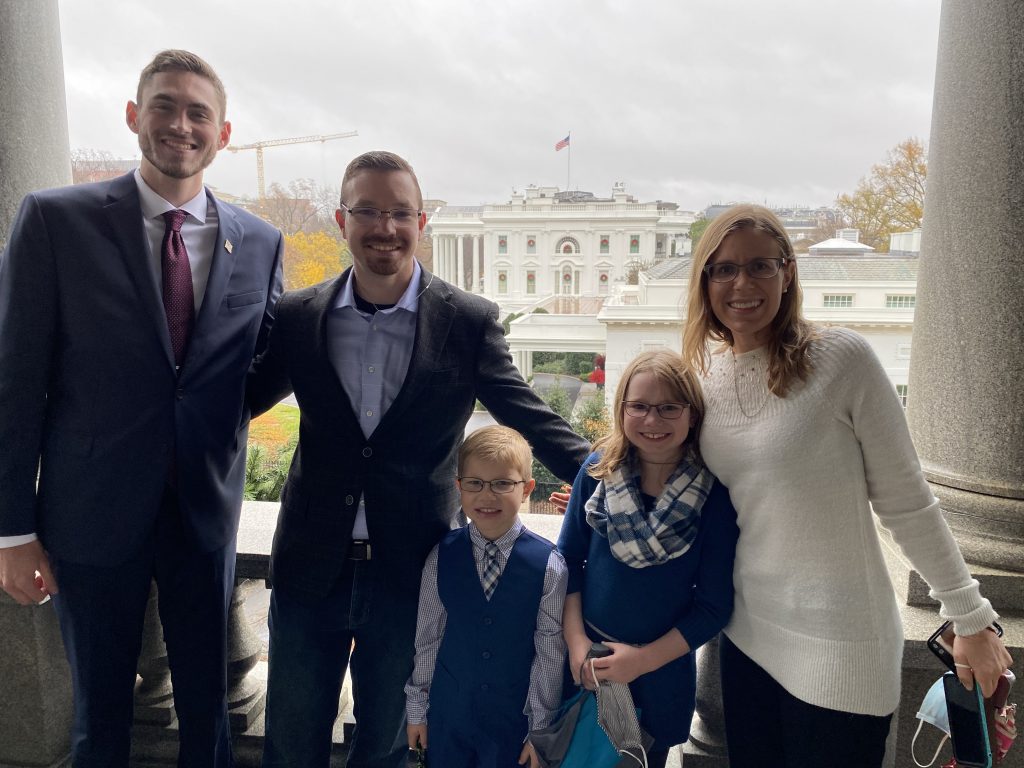 "She wrote a letter of recommendation for me when I applied for the program, and she and her daughter, Ali, put together a bake sale fundraiser to help me pay for some of my DC living expenses. I was blown away by their generosity!" said Whatley.
Whatley returned to Indiana at the end of 2020 with a new passion and deeper appreciation for public health. He took a contract assignment to administer COVID vaccines and is exploring opportunities to get a master's degree.
"And after that, who knows? Maybe I'll run for office someday," he said. "My internship experience at the White House opened my eyes to many opportunities that I never would have considered before making the trek to Washington."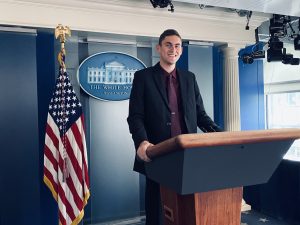 "Reflect on UIndy's motto, 'Education for Service', and recognize that we are now equipped to make a difference in our communities. In the last four years, our toolbox has been filling with all sorts of tools and a broken world awaits us. How can we drive a positive change in this world in the next four years?" – Jacob Whatley '19 (nursing)