UIndy network helps Jacob Weisenbach '17 'pay it forward'

Building community connections could well be the defining career principle for Jacob Weisenbach '17 (M.A., educational leadership). A graduate of the University of Indianapolis' nationally recognized iLEAD program, Weisenbach was recently honored with the Outstanding Community Partner Award from the Center for Service-Learning & Community Engagement for his work at Central Catholic School, where he served as assistant principal for the past three years.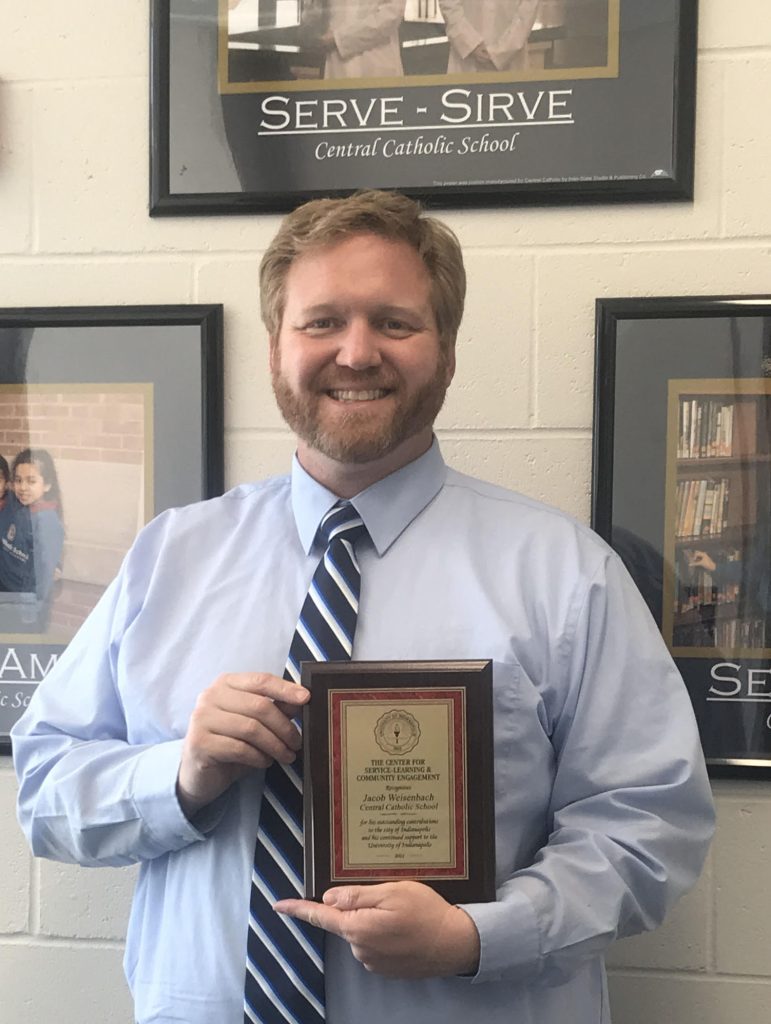 As Weisenbach prepares to take on a new role with Indianapolis Public Schools as a special education specialist at Arsenal Technical High School, he reflected on ways the iLEAD program prepared him for success.
"I really enjoyed the concept of the iLEAD program for its hybrid nature. I got an in-depth experience working with other dedicated educators and that cohort mentality of working together to solve problems, having actual dialogue in front of people and working to better prepare ourselves to serve our schools immediately through the program," Weisenbach said.

Weisenbach worked at Wayne Township Schools as an inclusion teacher in special education while he completed the iLEAD program at the University of Indianapolis, then went on to serve as assistant principal at Central Catholic. In his new role, he will serve inclusion teachers at Arsenal Tech.
With the iLEAD program, Weisenbach said he was able to leverage broad experience to grow his overall leadership skills.
"It takes a great partnership between myself and the student, the school I was working at – Bridgeport Elementary – and the University, to allow for the flexibility to take on new leadership activities and even to step outside of my role as a teacher and take part in opportunities at different levels," he said.
Weisenbach grew up close to UIndy on Brill Road near Hanna Ave., attending St. Roch Catholic Church and school. When the time came for college, he felt that the UIndy campus was a little too close to home and opted for IUPUI. After serving nine years with the Army National Guard, including tours in Baghdad and the United States, he was ready to own his calling to become a teacher. Encouraged by his wife, Natalie, also a UIndy alum, he came to appreciate the opportunities that awaited him at UIndy.

"I really found my love for that great university that was in my backyard the whole time. It was like an undiscovered treasure I knew about!" he said.
The Weisenbach name may be familiar to the Greyhound community. Jacob Weisenbach's aunt, Lynne Weisenbach, was the first executive director of the Center of Excellence in Leadership of Learning (CELL), serving from 2001 to 2008, and helped pen the Center's name, which highlights the model of transformative partnerships that are reshaping education in Indiana.
"That sense of community was always there for me," said Weisenbach. He noted that even outside of those family connections, "the University does a great job to create and cultivate these relationships."
Weisenbach would continue to build his UIndy network while at Central Catholic, thanks to introductions by RightFit, an after-school program partnership between the Archdiocese of Indianapolis and Notre Dame ACE Academies. RightFit introduced Weisenbach to Marianna Foulkrod, director of the Center for Service-Learning & Community Engagement at UIndy, leading to opportunities for UIndy students to serve in a variety of roles. 
"Jacob has been exceptional in working with our students and faculty to create service-learning experiences that connect them with UIndy's mission of education for service," said Marianna Foulkrod. "We are excited to see where these new relationships will take us."
Central Catholic is now an official community partner with UIndy, and Weisenbach was recently recognized for those efforts with the Outstanding Community Partner Award. He noted that having that close partnership already in place was key to navigating the challenges of the pandemic.
"Central Catholic was one of the few places striving for a safe, in-person connection even through the bumpy waters of 2020 and 2021. For students seeking the opportunity, they were able to come to us and we were able to conduct the program in a safe manner," Weisenbach explained.
As Weisenbach steps into his new role at Arsenal Tech, he is eager to grow his connections with the Center for Service-learning & Community Engagement.
"I'm sure there will be opportunities at a larger campus, and I'm curious to see how we can expand the role of service and leadership at Tech," he said.
Weisenbach appreciates the UIndy students who have built connections with Central Catholic. In many cases they return to become coaches, check in on the students and attend their graduations.
"The connections we make, and the time and service we build together, help to foster and create this sense of community throughout," Weisenbach said. "The opportunity to become educational neighbors really enhances the spirit of what you're doing. The work that we do is the business of teaching and learning, but the connections that we make are where we get our joy and fulfillment in our missions."