Sarah Pfohl publishes article in Postdigital Science and Education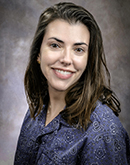 Sarah Pfohl, assistant professor of photography in the Department of Art & Design, was the lead author of a journal article, "Simple, Dark, and Deep: Photographic Theorizations of As-Yet Schools" in Postdigital Science and Education. The article features contributions from 24 artists and thinkers from around the U.S. and world including Kami Spear '21, a UIndy Art & Design alum, and Noni Brynjolson, Department of Art & Design assistant professor of art history. A free PDF of the article can be accessed here: https://rdcu.be/cpQLy.

Excerpt:

Within the space of this collective image/text article, 18 photographic imagemakers and 4 respondents consider deeply and dialogically a quote from William Ayers' 2016 book Teaching with Conscience in an Imperfect World: An Invitation. The resulting constellation of images and words (1) realizes a space within which works of art, specifically photographs, operate as centers of meaning to generate educational implications, and (2) theorizes a pedagogy that resists unilateral prescriptions and is instead anchored around openness, expansion, and individualization. The paper begins with a few short pieces from Sarah Pfohl, including an overview of Ayers' book and ideas from writings on progressive education, object-based teaching and learning, and close/slow looking to position works of art as sites of rich meaning.