Laura Wilson, associate professor of political science, accepted into Stanley K. Lacy Executive Leadership Series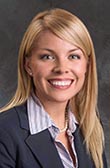 Dr. Laura Wilson, associate professor of political science, was recently accepted into the Stanley K. Lacy Executive Leadership Series (SKL) 45th class.
Each class year, 25 individuals are selected to participate in this highly competitive program, which seeks to expand the ranks of community leaders by teaching and motivating members to address the needs of Central Indiana.
Class members are chosen because of their significant community involvement and professional achievement; their demonstrated interest in community issues; a record of participation and achievement in voluntary community activities; and their willingness to expand their leadership role in the community.
"It really is an honor to be selected and I am thrilled to get to be a part of this year's class," said Wilson. "The work we do here, both on campus but also in academia more broadly, has the potential to really influence our community in a positive way. I love discussing and engaging in politics and joining this class of the Lacy Leadership Series will help me develop the skills and make the connections to have a larger impact. This program has a history of cultivating leaders within our community and I am deeply humbled and excited to connect, learn, and grow."
Myra Selby has been named the Moderator for SKL Class XLV. She is a Partner at Ice Miller and has the distinction of being both the first woman and the first African American to serve as associate justice on the Indiana Supreme Court. Selby herself is a graduate of the program having participated in SKL Class XIII. To ensure that the series is timely and topical, each class's moderator identifies aspects of broad economic and societal issues that are specific to Central Indiana for the class to study.
"In the current environment of challenge facing our city, strong leadership is more important than ever. We need leaders who will bring vision, cross-cultural thinking, and civic-mindedness and they will lead us toward a brighter future," said Selby.
Rebecca Hutton, President & CEO and SKL Program Director at Leadership Indianapolis added, "When Myra and I began working together nearly two years ago to plan this class, we could not have imagined all of the events that would unfold prior to us being able to finally bring the class members together. This is an important moment in time and these incredible leaders are ready to meet this moment."
SKL Class XLV will meet monthly from September through June. Participants will interact with local leaders, professional experts, and community decision makers to discuss a range of community issues.For more details, visit www.leadershipindianapolis.com.