Hounds down conference rivals in first round
UPDATE: The men's basketball season ended Sunday night with an 82-76 loss to Michigan Tech in the second round of the NCAA D-II Midwest Regional. More details here.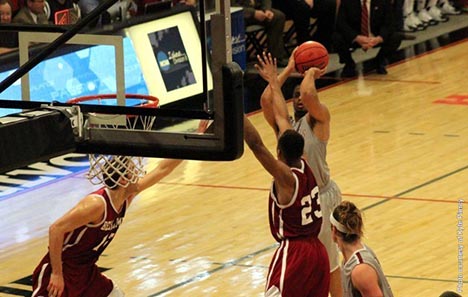 UIndy sent Bellarmine packing Saturday with an 80-75 win in the first round of the NCAA Division II Men's Basketball Midwest Regional.
The showdown against the archrivals from Louisville was a big win for the Greyhounds, who defeated the Knights in January but lost to them twice in the past month. The tournament meeting was their third in four years.
"They've been a thorn in my side the past few years, and it's time for us to do what we've been trying to do these past few years and knock these guys off," Head Coach Stan Gouard said in a pregame interview with WIBC radio.
And so they did. Senior Reece Cheatham led the Hounds with 18 points, 15 of them coming in the second half.
Second-seeded UIndy now advances to the second round Sunday, facing sixth-seeded Michigan Tech (23-7) at 7 p.m.
Read the Indianapolis Star's pregame story
Hear WIBC's seven-minute interview with Coach Stan Gouard
See a photo gallery from Saturday's game
Learn more about the team and the win
The UIndy women's basketball team enjoyed a 23-9 season but lost Friday to Detroit's Wayne State in the first round of the Midwest Regional. Read more on the team here.