Graduates to deliver commencement remarks
As UIndy's 2014 graduates anticipate hearing their names during Saturday's commencement ceremony, they'll hear words of reflection and inspiration from two of their own.
To mark the new approach to commencement this year – the first joint undergrad/graduate ceremony since 2002, and the first outdoor ceremony since the 1960s – UIndy decided to skip the guest speakers and award the opportunity to two of the graduates themselves, who were nominated and selected by their peers.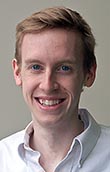 The undergraduates will be represented by senior Will Schnabel, 22, a Perry Meridian High School graduate who is earning his bachelor's degree in Communication. His student years have been marked by his involvement in Theatre, summer internships with The Conan O'Brien Show and The Onion, and his receipt of the prestigious Honors College scholarship for a semester at Oxford University, where he studied British politics – really studied.
"It was fun, but a lot of work," says Schnabel, who plans to pursue a career as a screenwriter.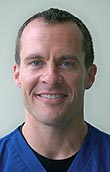 Graduate students will be represented by Peter Brown, 36, a North Central High School grad who will receive his Doctor of Physical Therapy degree. Originally a landscape architect, he decided to change course and was drawn to UIndy by its "Education for Service" philosophy.
"I got tired of chasing the almighty dollar and wanted to help people," says Brown, who is married to a UIndy alumna. As a student in the Krannert School of Physical Therapy, he has spent time assisting an elderly ALS patient, working at a camp for stroke survivors in Colorado, and most recently interning at the IU Health Neuroscience Center.
The commencement ceremony at 11 a.m. Saturday in Key Stadium will be webcast live and archived for later viewing at www.uindy.edu/graduation. Social media fans also can follow this week's graduation hoopla on Storify and add their own perspective via Twitter, Instagram and Facebook, using #UIndyGrad.