'Cosmos' host Tyson to speak Oct. 22 at UIndy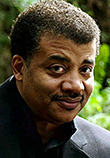 UPDATE: NEW LOCATION
Internationally known astrophysicist Neil deGrasse Tyson, host of the updated Cosmos science television series, will deliver a public presentation Oct. 22 at the University of Indianapolis.
Tyson, director of the Hayden Planetarium at the American Museum of Natural History in New York City, will speak at 7 p.m. in Nicoson Hall. The appearance is part of UIndy's Blanche E. Penrod Lecture Series. Details on seating will be released as available.
Cosmos: A Spacetime Odyssey, which premiered March 9 as a weekly feature on the Fox and National Geographic networks, is a high-tech reboot of the groundbreaking 1980 PBS series that demystified deep science for general audiences and made host Carl Sagan a pop icon. Sagan's widow and collaborator Ann Druyan and writer-director-actor Seth McFarlane are executive producers of the new series.