April 2 lecture to explore racism in the church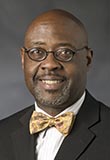 Duke University theologian Willie James Jennings will explore the impact of race issues on the Christian church during a UIndy appearance on Wednesday, April 2.
"How to Overcome the Disease of Racism in Christianity" is the title of the talk, which begins at 4:30 p.m. in Schwitzer Student Center's McCleary Chapel. Free and open to the public, the event is sponsored by the Office of Ecumenical & Interfaith Programs and Englewood Christian Church. L/P credit is available for UIndy students.
Jennings is an associate professor of Theology and Black Church Studies at the Duke Divinity School, where he earned his doctoral degree and served for many years as academic dean. His book The Christian Imagination: Theology and the Origins of Race, published by Yale University Press, won a 2011 American Academy of Religion award for best book and is becoming a standard text in colleges, seminaries and universities. A Michigan native, Jennings also serves with his wife, the Rev. Joanne L. Browne Jennings, as associate minister at the Mount Level Baptist Church in Durham, N.C.
The event is part of this year's University Series programming, which focuses on social responsibility, as well as the Diversity Series. For more information, contact the Office of Ecumenical & Interfaith Programs at (317) 788-2106.