Tuesday Faculty Forum takes a musical turn
This month's edition of Faculty Forum at UIndy features Associate Professor of Music John Berners in a unique musical presentation.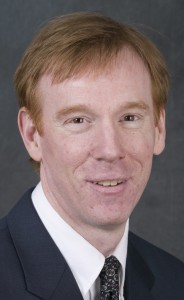 Dr. Berners, a nationally known composer, will discuss and perform his new work, Study on Peter, a piece written for unaccompanied solo performance by a singer-actor. The presentation will be from 12:30 to 1:30 p.m. Tuesday in Schwitzer Student Center Room 012. As always, light refreshments will be available and brown-bag lunches are welcome.
Following a longstanding tradition of classical music inspired by the biblical story of Peter's denial of Christ, the new 21-minute composition uses extended vocal techniques and writing structures to explore Peter's internal conflicts.