Prof receives Fulbright scholarship to Brazil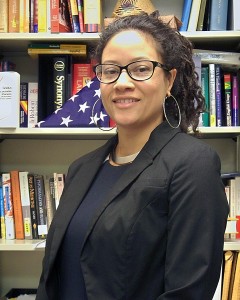 As it gains prominence on the world stage, Brazil is not the only nation that touts racial equality despite a legacy of discrimination dating back to the slave trade.
But just as African folk healers gave comfort and a sense of identity to oppressed Afro-Brazilians in the 18th century, new generations of writers and arts activists are bringing inspiration to the underclass in the country hosting this year's World Cup and the 2016 Summer Olympics.
Understanding those parallels is the goal of UIndy Assistant Professor Sarah Ohmer as she embarks on a 10-month project of travel, research and teaching in Brazil, funded by the U.S. State Department's prestigious Fulbright Scholar Program.
Dr. Ohmer holds a Ph.D. in Latin American literature and just completed her third year teaching Spanish language and culture in UIndy's Department of Modern Languages. She has a particular interest in African diaspora culture, especially in Latin America, and especially as it pertains to women and how they cope with their historically limited power in society.
"I like to have people think about who they are and how they define themselves," she says, "how a nation defines itself to the world and who is left out of that, and how does that connect to what we see on TV, in the news, in literature."
Ohmer's own background gives her a unique perspective on global culture. She was born in France, moved to the United States at age 11, and became a U.S. citizen in 2010. In addition to French, Spanish and English, she also speaks Portuguese, the language of Brazil.
She first visited that nation of 200 million for a conference in 2009 and made contact with two organizations that are central to her new project, which in her Fulbright proposal is titled Witnessing Black Women's Traumas: Ritual and Creativity-Based Activism in São Paolo and Rio de Janeiro.
One group is Quilombhoje, a São Paolo-based collective of Afro-Brazilian activist writers. Ohmer plans to conduct extensive interviews with writers Miriam Alves, Conceição Evaristo and Esmeralda Ribeiro this fall and next spring while serving as a postdoctoral scholar at the University of São Paolo. She also will teach and collaborate with university faculty during the fall and spring semesters.
The other organization is the AfroReggae Cultural Group, which operates community centers in the Rio de Janeiro slums where disadvantaged youth can participate in the arts as an alternative to gang violence and a path to empowerment. The group recently formed a dance troupe, dubbed Makalá, specifically for women and girls.
"I'll be interviewing the members and seeing how art is changing their lives," Ohmer says. "I especially want to bring the spotlight to the women."
While in Rio during the semester break from December to February, Ohmer will conduct research at two historical archives to learn more about the 18th-century African-born folk healers who were central to the lives of Brazil's slave population. They not only treated illness, but also embodied African tradition and resistance to oppression, just as modern writers, artists and activists do.
Upon her return, Ohmer will document and present her research through various means, including academic conferences and a book manuscript already in the works. Before she leaves Brazil, however, she hopes to do a little more traveling during the summer of 2015.
"Brazil is a big country," she says. "I want to see everything before I go."