Monday extravanganza closes concert series
UPDATE: Read review by veteran arts critic Jay Harvey
UIndy's accla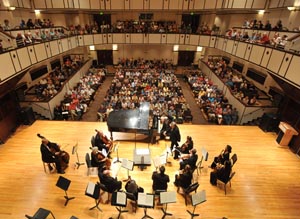 imed Faculty Artist Concert Series will wrap up its 33rd year Monday night with a Season Finale featuring the classical and jazz talents of the Department of Music faculty, alumni and guests.
The program promises a whirlwind musical tour of the 18th through 20th centuries, opening with Haydn's G-Major Trio (H.XV:32) and showcasing distinguished wind faculty in Paul Hindemith's Kleine Kammermusik, Op. 24, No. 2. Kathleen Hacker and Mitzi Westra will join pianist Elisabeth Hoegberg in vocal duets of Brahms; Austin Hartman and Richard Ratliff will perform music of Charles Ives. UIndy Director of Jazz Studies Harry Miedema will conclude the evening, teaming with UIndy alum Nick Tucker in "Solar" by Miles Davis. Miedema's performance will be his last at UIndy before his retirement at the end of the academic year.
The free show begins at 7:30 p.m. Monday in the elegant Ruth Lilly Performance Hall of UIndy's Christel DeHaan Fine Arts Center.
The full list of players is: Harry Miedema, tenor saxophone; Austin Hartman, violin; Dennis McCafferty, cello; Richard Ratliff, piano; Nick Tucker, double bass; Kathleen Hacker, soprano; Mitzi Westra, mezzo-soprano; Elisabeth Hoegberg, piano; Anne Reynolds, flute; Pamela French, oboe; Cathryn Gross, clarinet; Darin Sorley, horn; and Mark Ortwein, bassoon.