UIndy campus eyed for electric car station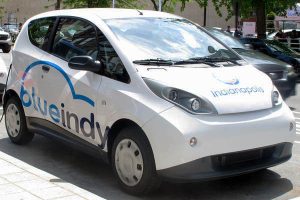 Indianapolis made international news this week with the announcement of a public car-sharing program that will put 500 plug-in electric hatchbacks on the streets by next year — and UIndy is part of the plan.
The agreement between the city and the Bollore Group of France is touted as the United States' largest test to date of this environmentally friendly technology, which produces no emissions, noise or odor. Drivers will be able to rent the cars for one-time use or purchase discount memberships that allow them to pick up, drop off and recharge the cars at 200 sites around Indianapolis. The service is expected to be particularly popular among the city's many college students.
Naturally, one of the first 25 sites targeted to get a charging station by the end of this year is the UIndy campus. The plans are still tentative, said Dr. David Wantz, special assistant for community affairs to President Robert Manuel. The most likely site is the northwest corner of Hanna Avenue and Shelby Street, current site of the Music Annex and future site of Campus Police headquarters. The first 50 cars should hit the road in December.
The fact that "BlueIndy" rhymes with "UIndy" is apparently a coincidence.