Supporting public radio, in more ways than one
UPDATE: While on the air, Dr. Manuel raised UIndy's challenge amount to $2,500, helping WFYI reach its campaign goal of $275,000 later that day.
Aside from having its own public radio station — the student-staffed WICR-FM/HD, central Indiana's home for jazz and classical music — UIndy also is a partner and supporter of local NPR affiliate WFYI.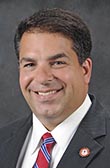 President Robert Manuel will be one of WFYI's guest hosts between 9 and 10 a.m. Friday, issuing a $500 challenge on behalf of the university to encourage listener support for the station's spring membership campaign. You can listen at 90.1 FM or online here.
UIndy's relationship with WFYI's radio and TV operations goes way back. In fact, former university President I. Lynd Esch led the community group that first brought public television to Indianapolis. More recently, on Feb. 25, UIndy and WFYI joined forces to host and broadcast "Diplomacy in a Dangerous World: A Conversation with Senators Richard G. Lugar and Sam Nunn" moderated by NPR's Steve Inskeep.
Getting back to WICR, which broadcasts at 88.7 FM, three digital channels and online, the UIndy station will host its own spring pledge drive April 21-27. Supporters also may donate
here
.