Students enjoy quality time with Prof. Lugar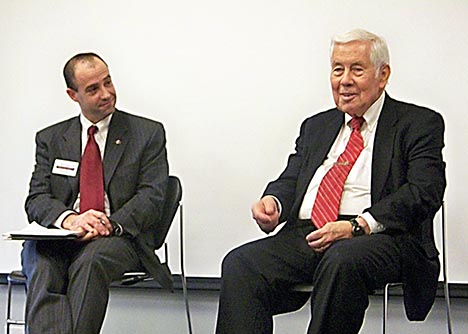 Associate Professor Ted Frantz, left, moderates a discussion on the Ukraine situation Tuesday at UIndy with faculty colleague Richard Lugar.
The value of being able to posing direct questions to a world-renowned foreign policy expert was not lost on UIndy graduate student Jeremy Jones.
"It's not very often you get to see a senator, period," said Jones, an Army officer pursuing master's degrees in International Relations and History, "let alone talking about a current topic that holds relevance to everybody everywhere."
Former Sen. Richard Lugar, now a distinguished professor of Political Science and International Relations at UIndy, had a busy day on campus Tuesday. It included joining in Associate Professor Jyotika Saksena's class in International Political Economy and Associate Professor Milind Thakar's introductory IR class. In the afternoon, Lugar discussed and fielded student questions on the situation in Ukraine, moderated by Associate Professor of History Ted Frantz.
Tensions in Ukraine continue to escalate, raising the specter of civil war, and the outcome could have global consequences, Lugar said. Although U.S. and European leaders are pondering various diplomatic, economic and political measures to discourage Russia from further interfering in Ukrainian affairs, no one is seriously considering a U.S. military presence, he said, even in a noncombat deterrent role.
"The majority of the American public doesn't like that idea at all," Lugar said. "We're all counseling the Russians: 'Don't send troops in there.'"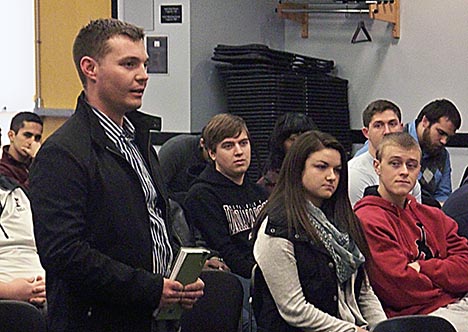 Grad student Jeremy Jones (standing) poses a question during Lugar's discussion on Ukraine and related issues in Schwitzer Student Center.