TV: President details 5-year development plan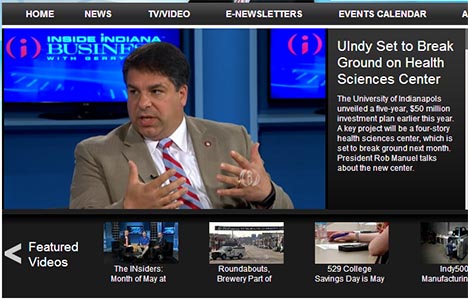 University President Robert Manuel discussed the new UIndy Health Pavilion and other aspects of the five-year, $50 million campus development plan during an appearance this weekend on Inside Indiana Business with Gerry Dick.
UIndy will break ground June 19 on the four-story Health Pavilion, which will open in Fall 2015 to house industry partners and clinical facilities as well as the university's in-demand programs in nursing, physical therapy, occupational therapy, psychology, kinesiology, athletic training, gerontology and social work.
The 156,000-square-foot structure will provide space for growing programs and opportunities for learning, research and collaboration among students, faculty and the healthcare industry. Dick asked Dr. Manuel just how important industry connections are to the university.
"I think it's critical for everybody," Manuel said, "for the students who need to understand what they're going to be getting into when they graduate, to the faculty who need to bridge the theoretical and the practical, and to the industries that can help us understand better how to train and educate the students who are going to take those jobs when they leave."
The conversation also covered the other elements of the five-year plan, which include renovating Krannert Memorial Library; replacing Campus Apartments on Shelby Street with new student housing; expanding and upgrading biology, chemistry and physics labs; starting a marching band; and launching the state's first NCAA Division II lacrosse program for men and women.
Watch Dr. Manuel's four-minute interview at insideindianabusiness.com.
Read more about UIndy's strategic plan here.