Psychology prof named Teacher of the Year
Within the School of Psychological Sciences, students say Associate Professor Debbie Warman is the best to have for morning classes, bringing "more energy than a gallon of coffee."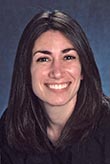 Dr. Warman's enthusiasm and ability to engage students are key reasons why she was selected UIndy's 2014 Teacher of the Year. The honor was presented this week at a campuswide faculty meeting.
Warman joined UIndy in 2003 and teaches a variety of graduate courses including the Professional Practice Seminar and the Cognitive and Cognitive-Behavioral Approaches to Treatment lecture and lab. She is known for her ability to combine theory and practice in her instruction and for citing actual clinical cases rather than fictitious scenarios as classroom examples.
As one of her students put it: "She is widely respected as an excellent instructor with a high level of expertise and the ability to translate her expertise into a cohesive syllabus that is enthusiastically taught. In her classes, I felt respected as a learner—a graduate student who was serious about mastering the material in order to be a more effective future psychologist."
The doctoral program in the School of Psychological Sciences, by the way, produces more clinical psychologists each year than any other institution in Indiana.
UIndy's other Teacher of the Year nominees for 2014 were Amanda Miller of Social Sciences, Travis Miller of Mathematics & Computer Science, David Styers-Barnett of Chemistry, Jessica Bannon of English, Karen Elsea of Nursing, Tom Parker of Business, Emily Slaven of Physical Therapy and Angelia Ridgway of Teacher Education.