Key Stadium to host May 3 commencement
Outdoor ceremony will recognize both undergraduate and graduate students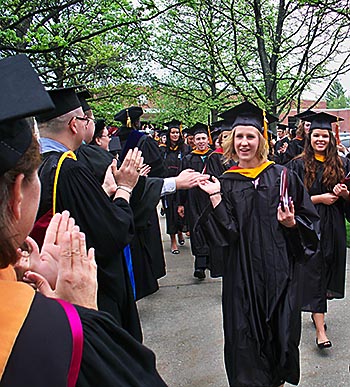 UIndy is supersizing graduation day this year with a May 3 ceremony that will be the university's first outdoor commencement in decades and the first since 2002 to combine undergraduate and graduate programs.
Commencement exercises have been conducted indoors since the 1960s, most recently in Nicoson Hall basketball arena. Growing enrollment led to a decision in 2003 to separate the spring celebration into two separate ceremonies, one for undergraduate programs and the other for graduate students receiving master's and doctoral degrees. Each event offered only limited seating for family and friends.
This year, a single commencement ceremony at 11 a.m. May 3 in Key Stadium will be open to all 1,343 of this year's eligible graduates, with no tickets required for guests. The football facility will be configured to seat up to 10,000 people for the occasion.
"Commencement is a milestone that the entire UIndy community should celebrate together," university President Robert Manuel said. "Moving outdoors to Key Stadium also opens our celebration to the broader community and signifies the university's role as an anchor for our southside neighborhood."
A live webcast of the ceremony will be viewable at www.uindy.edu/graduation, where more details on commencement also are available.
To mark the new format, this year's commencement addresses will be given by two graduating students nominated and selected by their peers. Peter Brown, who is receiving a doctorate in physical therapy, will represent graduate students. Will Schnabel, who is receiving a bachelor's degree in communication, will represent the undergrads. Both are from Indianapolis.
Also new this year is a week of coordinated events to celebrate the graduating students, including Midnight Breakfast on April 28 in the main dining room, BBQ with President Manuel on April 29 at his home, an All-Campus Lunch on April 30, Senior Night at McQ's Pub & Eatery on May 1, a Columbia Club Reception for Graduates on May 2 and a Graduation Reception on Smith Mall immediately following the May 3 ceremony.
Receiving honorary degrees at commencement will be two longtime supporters of the university. Honorary Doctor of Humanities degrees will be presented to UIndy trustee and alumnus Murvin S. Enders Jr., board president and former executive director of 100 Black Men of Indianapolis, and to Theodore H. "Ted" Polk, who is retiring this spring after 41 years directing food service and catering at UIndy.
The projected 1,343 students eligible to participate in this year's ceremony include 80 doctoral candidates, 359 master's degree candidates and 904 undergraduates. They hail from 28 states and 14 nations, with international students comprising nearly 17 percent of the total. An additional 146 students are expected to graduate this year from UIndy's international program sites.
NOTE: If you like social media, you can follow UIndy's 2014 graduation celebration on Storify as it develops, and join the conversation or contribute your piece of the story on Twitter, Instagram and Facebook using #UIndyGrad.