Student to attempt world record for charity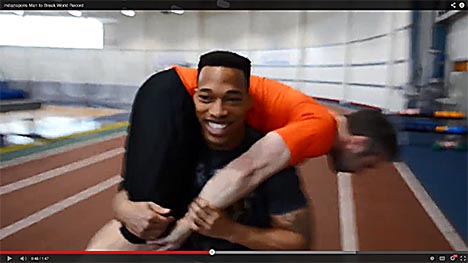 This still image from a video shows Sterling White training to break the world record for the fireman's carry and raise $10,000 for Little Red Door Cancer Agency.
There's no question Sterling White is in good shape, but can he carry someone his own weight for an entire mile in less than 11 minutes and 29.13 seconds?
That will be the big question at 10 a.m. Saturday when the UIndy student and former wrestler attempts to enter the Guinness Book of World Records for his performance in the fireman's carry.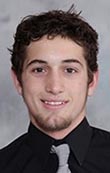 The carry-ee for the attempt at IUPUI's Carroll Stadium will be UIndy junior and wrestler Dylan Kavanaugh.
White, 23, began planning the project about a year ago, when a friend of similar age passed away from cancer and he felt and saw the grief that followed.
"It showed me how precious life is," says the Decatur Central High School graduate, who is using the occasion to raise money for Little Red Door Cancer Agency's services for local cancer patients. His personal goal is $10,000, and donations may be made at www.littlereddoor.org/sterling-white.
When White first approached the Guinness folks, the world record was 15 minutes, so the target has gotten considerably tougher in the meantime. ("I was like, 'Oh, no!'") But he already has beaten the new record while carrying a barbell of equivalent weight, which is even more difficult, so he is confident about Saturday's attempt. He's being careful to follow the stringent Guinness guidelines to make sure his success is official.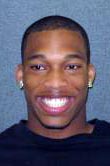 "It's 50 pages long, and we've been emailing back and forth," says White, who is still a few credits shy of his UIndy Human Biology degree but took this year off school to train for his project and develop his workout gear business. He has trained on his own at the UIndy athletic facilities and also with the help of coaches at the downtown gym CrossFit NapTown.
World record aside, White also hopes his effort will provide inspiration to others, in whatever they choose to pursue. He's been troubled by the reports of violence and other negative news he has seen recently in Indianapolis.
"We're all capable of doing so much more," he says. "Follow your heart and always believe in yourself."
Watch a video about Sterling White's world record attempt here.