Hound hospitality extends even to Pacer foes
Washington Wizards Head Coach Randy Wittman, an Indianapolis native, fields reporters' questions as his players shoot hoops today in Nicoson Hall.
You could call it the "Greyhound bump," but please don't blame UIndy if our Indiana Pacers lose to the Washington Wizards on Wednesday.
The Wizards conducted their daily shootaround and press availability at UIndy's Nicoson Hall on Monday morning before downing the Pacers 102-96 at Bankers Life Fieldhouse. This afternoon, the second-round playoff foes returned to campus for a workout and an interview session with local, national and D.C.-based media.
The gym was familiar to Head Coach Randy Wittman, a former star at Ben Davis High School and Indiana University.
"This brings back memories, because when I was in college I'd play here in the summertime, pickup games," he said. "It's been great. We appreciate the hospitality."
So, back to that Greyhound bump. The Atlanta Hawks also warmed up at Nicoson on April 19 before beating the Pacers in Game 1 of the first round. Going back a couple years, the New York Giants practiced in UIndy's Athletics & Recreation Center before claiming their Super Bowl XLVI rings. And while we're at it, this year's Super Bowl champion Seattle Seahawks visited the ARC last fall.
"There's a little bit of luck that comes from UIndy," says Bob Brubeck, the Greyhounds' assistant AD for facilities and game day operations.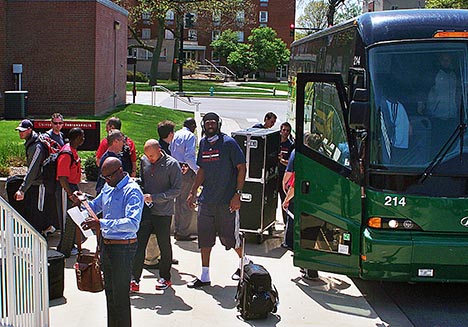 Brazilian big man Nene (center) and fellow Wizards disembark on arrival at UIndy.