Online histories explore Unigov, Lugar's rise
UIndy releases two new feature collections from Mayoral Archives
Indianapolis' historic Unigov consolidation and Richard Lugar's political rise are the subjects of two new online feature collections from the University of Indianapolis Mayoral Archives.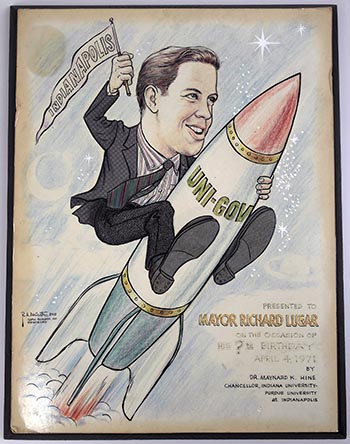 UIndy's vast physical trove of documents, images, recordings and other materials from former Indianapolis mayors and political leaders is being digitized and posted online for viewing by students, researchers, community leaders and the general public. The online interface went public in October with the unveiling of the first feature, Bringing the Colts to Indianapolis, a curated sampling of highlights from the Lugar and William Hudnut mayoral administrations that serves as an entry point to the broader collection.
The two new features have a similar format, with each item cross-referenced through names and topics to steer interested viewers toward thousands of related items in the archives.
Unigov: From City to Metropolis offers 17 items about the controversial consolidation of city and county government that began in 1969 and is now credited with elevating Indianapolis' profile. One curiosity from the collection is the text of a laudatory speech made by Donald Rumsfeld, who was then an aide to President Richard Nixon, during an Indianapolis appearance in September 1970. The documents, photos and other artifacts illustrate the political and practical complexity of the consolidation effort.
The Making of a Mayor comprises 12 items from Lugar's 1968-1976 tenure as mayor of Indianapolis. They include streaming audio of a radio and TV jingle from his 1967 campaign, as well as video of Lugar's keynote address at the 1972 Republican National Convention, where he was introduced by none other than Ronald Reagan, then the governor of California.
The convention video is an especially interesting piece of political history, said Dr. Edward Frantz, director of the Mayoral Archives and associate professor of history at UIndy.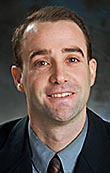 "For many Americans, this would be the first time to see Dick Lugar on a national stage," Frantz said. "This is the kind of material that demonstrates the incredible richness of the collection and why we're so glad to be unlocking these treasures, which had been confined to archival boxes."
The digitization work is being conducted by Maine-based consultancy and software development firm HistoryIT, which is scanning new items into the system at a rate of nearly 15,000 per week. The university provided space near campus – in what had been an empty commercial site – for the firm to tackle the UIndy project, cultivate new clients in the Midwest and collaborate with university faculty to develop internships and degree programs in the digital humanities. The partnership exemplifies UIndy's strategic commitment to innovation, expansion of learning opportunities for students beyond campus, and economic development in the University Heights neighborhood.
BROWSE: Learn more about UIndy's Mayoral Archives at www.uindy.edu/mayoral
WATCH: Chicago Tribune video interview with HistoryIT founder and CEO Kristen Gwinn-Becker

LISTEN: Mayor Richard Lugar presents a key to the city to soul legend James Brown in 1969, and Brown responds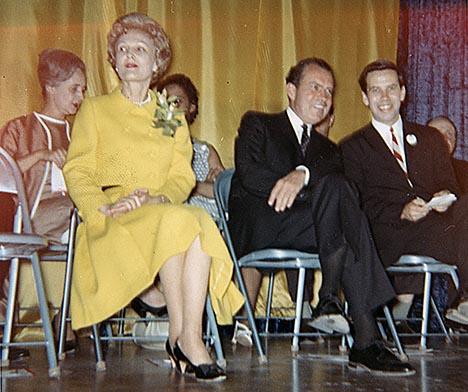 In this 1968 photo from UIndy's Mayoral Archives, Mayor Richard Lugar joins Richard Nixon and his wife, Pat, for a presidential campaign rally in Southport.