Director to join Professional Edge Center
Elizabeth Knott will join the UIndy staff June 2 as Director of Career and Community Integration for the Professional Edge Center.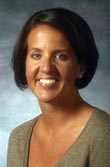 Knott comes to the post with extensive experience in higher education and career development. Her background includes posts at Kenyon College, Augustana College and most recently Wabash College, where she has served the past three years as Director of Business Immersion and Leadership Programs.
UIndy's Professional Edge Center works with local employers and professionals to develop internship, mentorship, entrepreneurship and employment opportunities for students and new graduates. The center also seeks to create career pipelines in entrepreneurship and in industry sectors that are important to the Indiana economy and tied to UIndy's academic programs and expertise: science and healthcare, education and social services, manufacturing and logistics, financial services, arts, communications and law, and public service and nonprofit management.
As Director of Career and Community Integration, Knott will report directly to Associate Vice President Corey Wilson and will oversee an advisor and four assistant directors assigned to the various career sectors.
"Betsy will be a strong leader in our efforts to enhance opportunities for our students and graduates," Wilson said.
A native of Indiana, Knott holds a bachelor's degree in accounting from the University of Evansville and a master's degree in management from the University of Denver.