Study: Program gives NFL prospects a leg up
After years of high-level competition and conditioning, what more can elite athletes do to improve their performance?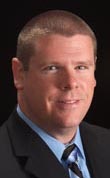 Plenty, according to a new study co-authored by Dr. Scott Lawrance, assistant professor and clinical education coordinator for UIndy's Athletic Training Program. The key, he says, is a comprehensive approach that involves both mind and body.
The study, presented last week at the American College of Sports Medicine Annual Meeting in Orlando, Fla., involved pro football prospects who underwent a special program at St. Vincent Sports Performance in Indianapolis to prepare them for the annual NFL Scouting Combine. The combine, which puts athletes through various physical and mental tests in front of coaches, scouts and the media, can weigh heavily on a young player's draft status, starting salary and eventual career success.
SVSP's NFL Pre-Combine Training Program involves not only athletic trainers and strength and conditioning coaches, but also sports dietitians, sports psychologists, sports medicine physicians and former NFL players who help the athletes address a broad range of physical and mental issues in order to increase their muscle mass, speed and agility. The sessions run six days a week for eight weeks each January and February.
"It's an intense program," says Lawrance, who worked at SVSP before joining the UIndy faculty and remains a member of its research team. "Players from all over the country come in."
Similar programs are offered elsewhere, but until now, there has been little published research on their effectiveness, says Lawrance, a two-time UIndy alumnus with his Doctor of Health Science and Master of Science in Physical Therapy degrees.
For this study, the researchers from SVSP, UIndy and the IU School of Health and Rehabilitation compared pre- and post-program results of 56 athletes who completed the pre-combine program between 2008 and 2012 and found that:
Body fat decreased by an average of 0.8 percent, with athletes adding an average of 6.9 pounds in muscle mass and losing an average of 1.6 pounds of fat.
Bench press repetitions at 225 pounds increased by an average of 5.2 repetitions.
Vertical jump increased an average of 3.1 inches, and broad jump distances increased an average of 4.2 inches.
Times in the 40-yard dash fell an average of 0.25 seconds, and also fell in the 10-yard and 20-yard sprints, indicating improved acceleration.
Times also improved on agility tests such as the 20-yard shuttle, the three-cone drill and the 60-yard shuttle.
"These are the best of the best, and this program is making them better," says Lawrance, past-president of the Indiana Athletic Trainers Association and president-elect of the Great Lakes Athletic Trainers Association. "We're getting them ready for the biggest interview of their lives."