Health Pavilion groundbreaking set for June 19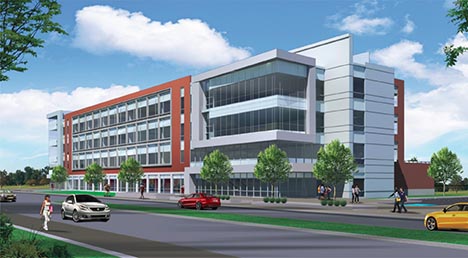 Four-story center will transform academic programs, spark economic activity
The University of Indianapolis will break ground June 19 on a four-story, $28 million Health Pavilion that will house UIndy's healthcare- and wellness-related academic programs as well as industry partners and clinical facilities to serve the community.
With indoor and outdoor amenities open to the public, the building will be a new gateway to the UIndy campus, a landmark for the University Heights neighborhood and an integrated hub where faculty, students and healthcare professionals can collaborate on education and research.
Local developer Strategic Capital Partners will construct the 156,000-square-foot building and lease space to the university for its School of Nursing, Krannert School of Physical Therapy, School of Occupational Therapy, School of Psychological Sciences, Athletic Training Program and departments of Kinesiology and Social Work – programs that account for more than half of UIndy's 5,400-student enrollment. Designed by local firm CSO Architects, with construction to be overseen by Pepper Construction Group, the building is scheduled to open in August 2015.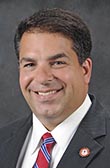 UIndy is in talks with potential partners in the healthcare and mental health fields to establish operations in the building that in turn will provide clinical opportunities for students. The building also will house the university's Psychological Services Center, in which psychology faculty and graduate students serve the community on a sliding-fee scale.
Deans and faculty members are working with the architects on interior features that will include classrooms, offices, meeting spaces, state-of-the-art simulation and research labs and informal gathering areas to promote multidisciplinary collaboration. The design will facilitate the development of new graduate programs in the vein of the Master of Public Health degree, focusing on health disparities, that UIndy is launching this fall.
The main entrance will open into a two-story atrium lobby, designed for public access with a café and adjacent outdoor plaza, social areas and a 140-seat auditorium. Near the entrance on the second floor will be interactive space for students and faculty with access to a rooftop terrace.
Ongoing development plan
The UIndy Health Pavilion is a key component of the five-year, $50 million development plan the university announced earlier this year to lay the foundation for future growth. Other elements of the plan include renovating and enhancing technology in Krannert Memorial Library, replacing the aging student apartments on Shelby Street, expanding science laboratories, launching new academic programs, hiring additional faculty, restructuring career development and advising services, forming a marching band and establishing Indiana's first NCAA Division II men's and women's lacrosse teams.
"The Health Pavilion will create space to expand some of our strongest programs and strengthen our ties with the healthcare industry, which benefits students and faculty in multiple ways and makes our educational product relevant to the real world," UIndy President Robert Manuel said. "Just as important, our overall development plan is designed to attract new economic activity that will make our part of the city a more vibrant place to live and work, not only for the campus community but also for neighboring residents and businesses."
A groundbreaking ceremony will begin at 10 a.m. June 19 on the building site at the southwest corner of Hanna and State avenues. Expected guests include Mayor Greg Ballard, Department of Metropolitan Development Director Adam Thies, City-County Councilor Jefferson Shreve, State Rep. Justin Moed and representatives of U.S. Sen. Joe Donnelly and U.S. Rep. Andre Carson.
City-campus partnership
The project builds upon the ongoing partnership between the university and city government, most directly the city's recent reconstruction and safety enhancements on Hanna Avenue, to which UIndy contributed $2 million in sidewalks, lighting, utility line relocation and boulevard-style landscaping. On Wednesday, the Metropolitan Development Commission unanimously approved a variance and tax incentive package to support the Health Pavilion.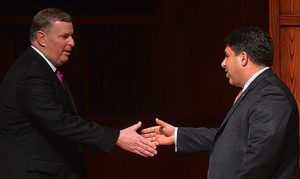 As Ballard announced in his State of the City address in February at UIndy, the city is providing $1 million from the federal Community Development Block Grant program to outfit the building with specialized medical and fitness equipment. A small portion of the grant also supports the creation of a nearby park to serve University Heights residents and the campus community.
Manuel said Strategic Capital Partners was selected in part because of its experience with such projects as the ongoing 100-acre revitalization of the Avondale Meadows neighborhood near 38th Street and Keystone Avenue.
"Strategic Capital Partners has a demonstrated ability to bring about transformative projects with a community-minded focus," Manuel said. "From the beginning, they understood the broad impact we intend to make with this new Health Pavilion."
Strategic Capital Partners CEO Gene Zink, citing more than three decades of work in local development, said the project is his first to be located inside I-465's southern rim.
"UIndy under its current leadership is creating the kinds of opportunities that previously didn't exist in this part of the city," Zink said. "I think you'll be seeing a lot more activity in the neighborhood."
UIndy Health Pavilion
Four stories, 156,000 square feet
Opening August 2015
Total cost: $28 million
New home for programs in nursing, physical therapy, occupational therapy, psychology, kinesiology, athletic training and social work
Clinical facilities and healthcare industry partners
Auditorium and event space
Café, outdoor plaza and rooftop terrace