Texas update: Heat, cameras and desperation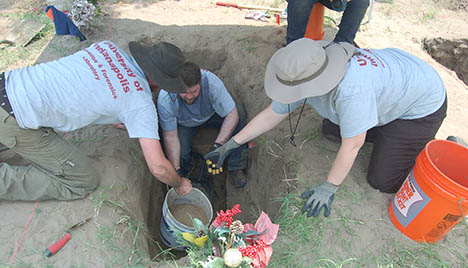 NEWS UPDATES:
WISH-TV, Indianapolis
WGBT-TV, Harlingen, TX
As their blog makes clear, UIndy's Dr. Krista Latham and her student team of forensic scientists are hard at work in the south Texas heat this week, continuing their humanitarian mission of exhuming remains in hope of identifying and repatriating migrants and refugees who have died after crossing the border.
"This heat is real, and every day migrants are making the extremely real decision to brave the sun and fight their way through this environment for a better life, either for themselves or for their family," grad student Ryan Strand wrote in one entry. "Many who have perished are found with only a small water bottle. I can't imagine walking for more than half an hour in this environment with only that much water and without a constant source of shade."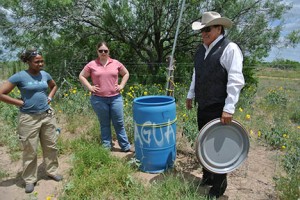 A documentary film crew was shadowing the team earlier this week. Also, accompanied by a writer from Scientific American magazine, the team toured a 13,000-acre ranch where the staff maintains a stash of water jugs for people crossing to reach a highway to Houston.
Increasingly, it seems, those trying to enter the United States illegally are not just seeking employment but in many cases fleeing gang- and drug-related violence in their central American home countries. Some are unaccompanied children. As NPR reported earlier this week, as many as 60,000 undocumented child immigrants are expected to enter the U.S. alone this year — a 10-fold jump in just three years.
Follow the UIndy team's challenges at beyondborders.uindy.edu.