Education MBA announces inaugural fellows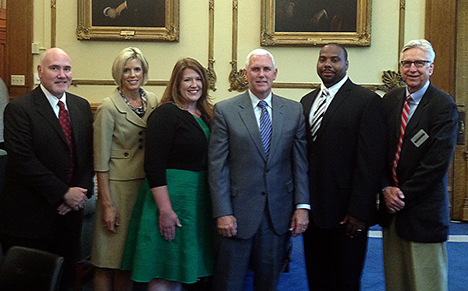 Attending Monday's announcement at the Statehouse were (from left) UIndy Business Dean Karl Knapp, Associate Professor Rachel Smith, incoming fellow Sarah Hunter of Zionsville schools, Gov. Mike Pence, incoming fellow Dominic Day of Wayne Township schools and Associate Professor John Somers.
Indiana Gov. Mike Pence was on hand Monday for the announcement of the inaugural class of UIndy's Woodrow Wilson MBA Fellowship in Education Leadership.
UIndy is one of just two institutions selected by the Woodrow Wilson National Fellowship Foundation to pilot the program in advance of a broader national rollout. The first 15 fellows — professional educators nominated by their district leaders — are starting the intensive 13-month program this summer. Faculty from UIndy's School of Education and School of Business collaborated to design the curriculum, which gives educators the skills to face today's challenging education landscape.
Each fellow receives a $50,000 stipend and agrees, upon completion of the program, to serve in a leadership role in an Indiana school, charter organization, or district for at least three years, with foundation-supported coaching. The program essentially allows local school districts to cultivate new leaders from within their ranks.
Read the original program announcement here.
Read the latest announcement from the foundation here.
The members of UIndy's inaugural cohort of Woodrow Wilson Indiana MBA Fellows in Education Leadership are:
Allison Chance
Special Education Teacher, Center Grove Community School Corp., Greenwood
Dominic Day
Social Studies Teacher/Team Leader, Lynhurst 7th and 8th Grade Center, MSD of Wayne Township
Dana Dietz
Instructional Coach, Avon Community School Corp.
Thomas Hakim
Math Department Chair, Northview Middle School, MSD of Washington Township
Mike Hall
Principal, Monon Trail ES, Westfield
David Harker (UIndy alumnus)
Teacher Leader/Language Arts Teacher, Greenwood Middle School
David Hobaugh
Science Department Chair, Chemistry Teacher, Tri-West High School, Lizton
Tracy Hood
Instructional Coach, Plainfield Community School Corp.
Sara Hunter
STEM Coach and Teacher, Zionsville Community Schools
Adrienne Kuchik
Academic Support Manager—Mathematics, Gary Lighthouse Charter School
Adam Love
AP History, Government, Social Studies Teacher/Department Chair, Tri-West High School, Lizton
Jacob Pactor
English Teacher/Intervention Team Leader, Speedway High School
Kari Serak
English teacher, Brownsburg West Middle School
Wes Upton
Teacher Leader/Geography/History Teacher, Ben Davis Ninth Grade Center, MSD of Wayne Township
Kelly Zibton
Fifth-Grade Teacher/Team Leader, Delaware Trail Elementary School, Brownsburg