5K at UIndy to support anti-trafficking efforts
The UIndy campus will host this weekend's fourth annual Run for One 5K Walk/Run, organized by the local organization Purchased to support its efforts to combat human trafficking.
Registration begins at 8 a.m. Saturday on Smith Mall, with the race starting at 9 a.m. The fee is $20 for individuals, $30 per family or $60 for a team of five. Prizes and raffle winners will be announced at the end of the race. You can register here or find more information here.
Purchased is an Indianapolis-based, all-volunteer, nonprofit public charity that raises awareness on global and local issues of human trafficking and sexual exploitation, which it calls "modern-day slavery." One of those volunteers is UIndy Assistant Professor Lisa Elwood, director of clinical training for the School of Psychological Sciences, who is a member of the Run for One event committee.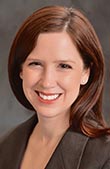 Elwood also serves on the Indiana Protection for Abused and Trafficked Humans task force, a federally funded effort co-chaired by the local U.S. Attorney's Office and the state Office of the Attorney General. IPATH provides services to victims of trafficking as well as resources and training to help police and others identify and rescue victims. Among other activities, she is assisting IPATH and Purchased with research into the effectiveness of their work.
UIndy's anti-trafficking student organization, Keys, also has collaborated with Purchased. UIndy Co-Chaplain Jeremiah Gibbs, the staff sponsor of Keys, will welcome guests and deliver an invocation at Saturday's event.