Groundbreaking touts power of partnership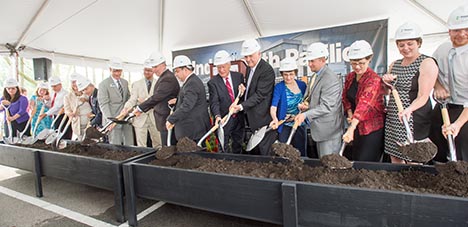 Elected officials, UIndy faculty and project partners turn dirt Thursday morning to launch construction of the new Health Pavilion at Hanna and State avenues.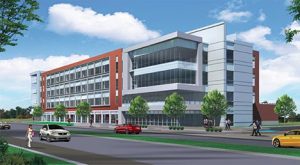 NEWS COVERAGE:
WTHR 6:30 a.m.
WTHR noon
WISH
WXIN
WRTV
WFYI-FM
Indy Star
NUVO Newsweekly
Inside Indiana Business
University Business
A host of city and state dignitaries were on hand this morning as the University of Indianapolis broke ground on its four-story, $28 million Health Pavilion, which will be the new home for the health- and wellness-related academic programs that account for more than half of UIndy's 5,400 undergraduate and graduate students.
University President Robert Manuel thanked the many officials and business partners in attendance for their contributions to the project.
"What we're celebrating today is about relationships and about our connection to the city," he said. "We've always been a university of and for Indianapolis, and I am so grateful to everyone here today for their advice, for their creativity and for their efforts in designing what will be an incredible academic and community center in Indianapolis."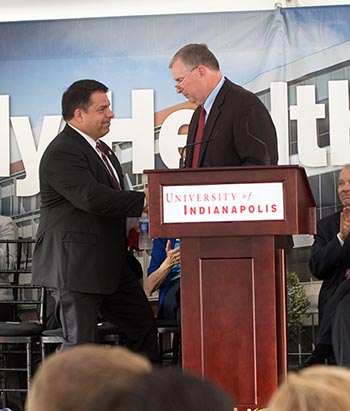 Indianapolis Mayor Greg Ballard noted that the Health Pavilion — for which the city awarded $900,000 in federal grant funding to purchase specialized equipment — continues a pattern of city-campus collaboration that included the reconstruction of Hanna Avenue.
"Great neighborhoods are built around great anchors," Ballard said. "We have that here … with the University of Indianapolis."
"Today's groundbreaking represents more than just the addition of a great new building on campus," he continued. "As UIndy invests to make its campus more attractive to students, it is making this area more inviting to new residents and making the city a better place to live."
Other speakers at Thursday's groundbreaking ceremony included Metropolitan Development Director Adam Thies, State Rep. Justin Moed, City-County Councilor Jefferson Shreve and representatives from the offices of U.S. Rep. Andre Carson and U.S. Sens. Dan Coats and Joe Donnelly.
Opening in August 2015, the 160,000-square-foot Health Pavilion will be the new home for UIndy's nationally respected programs in nursing, physical therapy, occupational therapy, psychology, kinesiology, athletic training and social work, as well as the Center for Aging & Community. State-of-the-art labs, classrooms, and meeting areas are designed to promote multidisciplinary collaboration, research, and the development of new academic programs. Sharing the space will be healthcare industry partners and clinical facilities that will serve the community while providing hands-on experience for students.
Today's groundbreaking ceremony included two special announcements. First, a $250,000 gift from the R.B. Annis Educational Foundation will help to equip and support programming in the Health Pavilion's 140-seat auditorium. Also, UIndy has been selected to operate, from this new space, the Metropolitan Indianapolis/Central Indiana Area Health Education Center, part of a statewide network that recruits and prepares healthcare professionals to work in underserved Indiana communities.
The Health Pavilion, a major step forward in the revitalization of University Heights and surrounding neighborhoods, is part of UIndy's five-year, $50 million development initiative.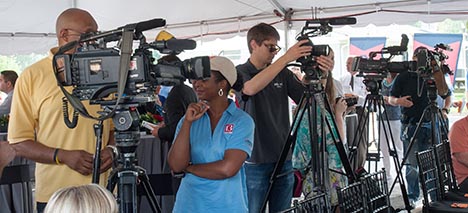 The Health Pavilion groundbreaking ceremony attracted crews from all four Indianapolis commercial TV stations, among other journalists.