On the air: CAC director on lifelong activity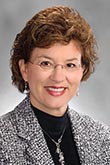 Dr. Ellen Miller, executive director of UIndy's Center for Aging & Community, is a panelist for today's episode of No Limits, the WFYI radio public-affairs show.
The topic is "lifelong learning" in the broad sense, exploring the many options for remaining intellectually and socially engaged as we grow older.
The program airs at 1 p.m. on 90.1 FM and online at www.wfyi.org/listen-now. The program will be available for later listening at www.wfyi.org/programs/no-limits.
Learn more about CAC's work for older adults here. Dr. Miller also serves as UIndy's interim associate provost for Research, Graduate Programs and Academic Partnerships.