Dr. Manuel to speak at citizenship ceremony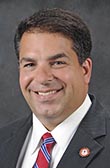 UPDATE: The ceremony grew to 101 new citizens. See NUVO Newsweekly's coverage here, and see more photos on President Manuel's Facebook page.
In a special ceremony Thursday, 75 Indiana residents will become U.S. citizens, and UIndy President Robert Manuel and his wife, Wilmara, will welcome them as the featured speakers.
U.S. District Court Judge Sarah Evans Barker will preside over the Fourth of July Naturalization, which begins at 10 a.m. (July 3) on the lawn of the historic Benjamin Harrison Home on North Delaware Street. The Manuels also will help hand out the naturalization certificates and congratulate the new citizens.
The annual summer ceremony for people who have qualified for citizenship is understandably a big deal for the recipients' family and friends, who can take free tours of the Harrison house afterward, but it also attracts journalists and other spectators. The Manuels' comments are expected to touch on the privileges and responsibilities of citizenship as well as their personal story; Wilmara was born in Haiti and later became a U.S. citizen.
More information is available here.