Public Health prof: Don't lose sleep over Ebola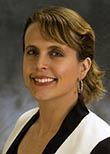 The Ebola outbreak in West Africa is rightfully a concern for the international community, but it's not a health threat for the vast majority of Americans, says UIndy's Dr. Shannon McMorrow.
Despite rumors on social media and confused comments by public officials, the horrible hemorrhagic fever virus is not spread through air, water or food. It can be contracted only through direct contact with the blood or bodily fluids of an infected person who is showing the symptoms, says McMorrow, assistant professor of Kinesiology and interim director of UIndy's new Master of Public Health program.
She has seen Facebook posts suggesting, for example, that the virus could easily spread among airline passengers.
"It's generating a lot of fear," she says.
Still, the outbreak is an interesting case study for professionals and students in the field, says McMorrow, who taught public health at a Ugandan university from 2005 to 2008, when Ebola was reported in that eastern African nation. Current efforts to combat the spread of the virus reportedly are being hampered by rural Africans' fears and suspicions about the foreign health workers who are coming into their communities, often wearing protective gear that looks like "alien space suits," McMorrow says.
"It makes sense for their own protection, but the local folks are scared," she says. "You miss the mark when you don't take those things into account."
That's why UIndy's Master of Public Health program includes a required course in cultural competency, stressing the importance of understanding the unique qualities of a population when designing health initiatives. The UIndy MPH curriculum focuses on health disparities, the preventable problems among specific populations that can be reduced or eliminated through community programs, improved healthcare practices or changes in public policy.
"This is a great opportunity to talk to students about public health," McMorrow says.
Learn more about UIndy's MPH program here. Other facts about Ebola, courtesy of the Centers for Disease Control and Prevention, are here.